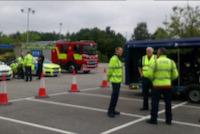 Police and partners joined forces in Wilmslow as part of continued efforts to improve safety on the A34.
More than 100 drivers, pedestrians and children were spoken to as part of the 'Driver Engagement Day' on Thursday 2nd September.
The day, which is part of Operation Topnotch, saw police officers working alongside Cheshire Fire and Rescue Service to talk to and educate drivers following reports of anti-social driving and an increase in the number of fatal and serious collisions on the A34 in Handforth Dean.
More than 40 vehicles were stopped by police for a variety of reasons including using a mobile phone while driving, not having proper control of a vehicle, having defective tyres and excessive tints on windows, lights and number plates.
Chief Constable Mark Roberts also attended the event to see the work being done as part of a wider operation to make the roads around Wilmslow safer for all road users after listening to the public.
Sergeant James Bell said: "This day was a great success and was set up to educate drivers about the consequences of their habits when driving and encourage best practice.
"We offered the drivers the chance to speak with us to change the way they drive making the roads safer for our communities.
"The day is part of a much larger operation aimed at improving the safety of our roads and is a culmination of talks with the local authority, which along with highways, have been discussing everything from installing cat's eyes, re-marking, cutting back vegetation and most importantly – reviewing the speed on the road.
"Another part of this wider project will see 420 trees being planted along the road, where space allows, combating the sound that the surrounding villages and towns suffer from due to the increased traffic on this road.
"I hope that this operation shows that we are committed in making roads safer for everyone and we will continue to work with our local partners in order to make a difference to Cheshire's road network."
Police and Crime Commissioner for Cheshire, John Dwyer, said: "I've heard from numerous residents about the issues they're facing on the A34.
"On the 23 September I'm holding a public meeting to discuss the issues and how we can move forward.
"Saying that, seeing the action the Constabulary has taken shows that we don't tolerate this sort of behaviour on Cheshire's roads."
Station Manager Andy Gray, Cheshire Fire and Rescue Service's Road Safety Manager said: "It has been great to be out with officers to help educate and provide advice to road users on the dangers of the road.
"These events allow us to get our message to those motorists who may not be thinking about the consequences of their actions on the road and help them make changes to ensure we protect not only themselves, but others from harm."