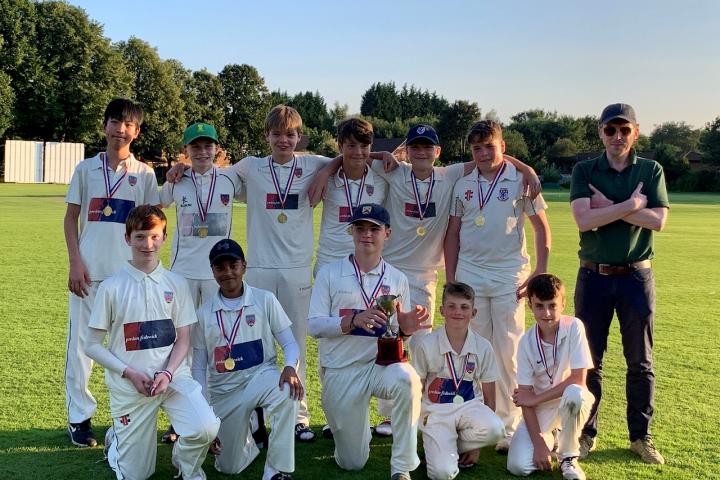 Thursday saw the U13 side one of four teams participating in the U13s South Manchester cup finals day.
The semi-final draw saw Alderley playing Ashley, who won the toss and elected to bat. The innings got off to a steady start, but on a slow wicket, against some tight bowling, wickets fell regularly and Ashley were bowled out for 65 in the 18th over.
There we good contributions from all of the Alderley bowlers, Joe Bailey-Heald leading the way with 3 for 8, with Alfie Usher, Sevin Mithige and Christian Smith taking 2 each.
Chasing a relatively modest target, the Alderley reply started brightly, before two quick wickets, stalled progress. Christian Smith (26) and Simon Shadwell (15) got the innings back on track, and although both were out before victory was secured, the side won comfortably by 5 wickets with 6 overs to spare. The pick of the bowlers for Ashley was Archie Murray with 4 for 24.
The final saw Alderley take on Ashton on Mersey who had defeated Lindow CC in their semi-final earlier in the day. Batting first, Alderley got off to a strong start with Christian Smith (21) and Alfie Usher moving the score along quickly. Smith's dismissal precipitated a flurry of wickets, but Usher
held the innings together before retiring on 31. However, a composed 21 from James O'Brien got the innings back on track, Alderley eventually closing on 118 for 7 off the 20 overs.
The Ashton reply got off to a strong start with 21 runs coming of the first 3 overs. However when Christian Smith removed one of the openers in his second over, the run rate slowed and Alderley's spinners began to take control. Wickets began to fall at regular intervals as Ashton struggled to keep up with the required run rate. James O'Brien and Angus Collins-Webb took a wicket each and Alfie Usher two, as the Ashton middle order collapsed. When
Christian Smith, returning for his third over, removed Ashton's county player, the game was effectively over; Noah Swift and Sevin Mithige taking the final 2 wickets as Ashton were all out for 83.
AECC won by 35 runs.
Match report by Tony Smith.