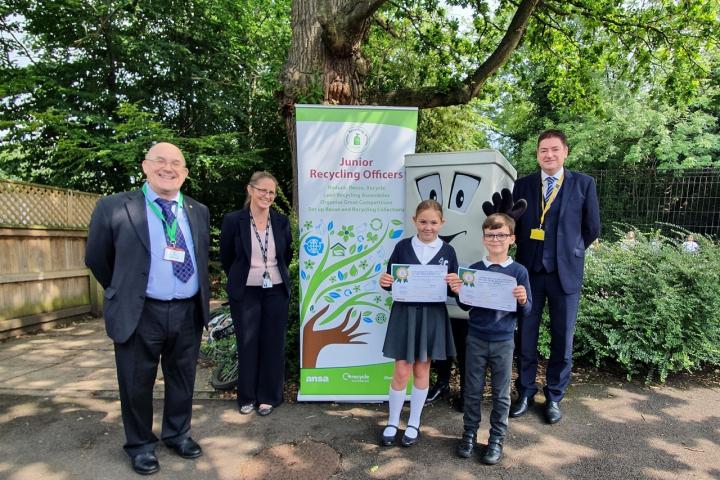 Pupils from Alderley Edge Community Primary school have been awarded the title of 'Junior Recycling Officer of the Year' at a prize-giving ceremony held in the village.
To compete for the prize of £150 towards their school's recycling projects, the children provided a five-minute presentation on their recycling efforts in their school. Judges were impressed with the high level of standards, determination, and their passion across all the classes to reduce, reuse and recycle despite the challenges they faced doing this in a pandemic.
The successful students showed initiatives such as recycling pallets and water bottles to create planters and scarecrows for their school allotment and building two compost bins and a greenhouse to grow produce for sharing. They also hosted a fantastic Halloween Junk and Christmas Jumper competition to create new items out of old clothes.
Cheshire East Council's deputy leader Councillor Craig Browne, who attended the event, said: "It was a real pleasure to be able to see the pride the children had in receiving their awards. The achievement of these children and many others who entered the competition this year, is something we should all sit up and take notice of.
"The latest official figures show that our recycling rate has risen to 56.5 per cent, which makes us the top unitary authority in the North West and fifth highest recyclers in the country.
"I am confident that with young people like the ones I met at Alderley Edge Community Primary School leading the way and setting a great example for how we should all make more use of the materials around us, that we will continue to live in a more environmentally-friendly way."
Ansa company chair, Councillor Steve Hogben, said: "The Junior Recycling Officer programme continues to go from strength to strength. The passion for the environment shown by these children is a great example to us all, and their teachers should also be congratulated. Inspiring children such as these, hold the future of our planet in their hands. It was a real pleasure to visit such a friendly school."
Photo: From left to right: Councillor Steve Hogben, Lindsey Walsh, headteacher at Alderley Edge Community Primary School, the two Junior Recycling Officers of the Year 2021 with Ansa's 'Phil the Bin' and Councillor Craig Browne.