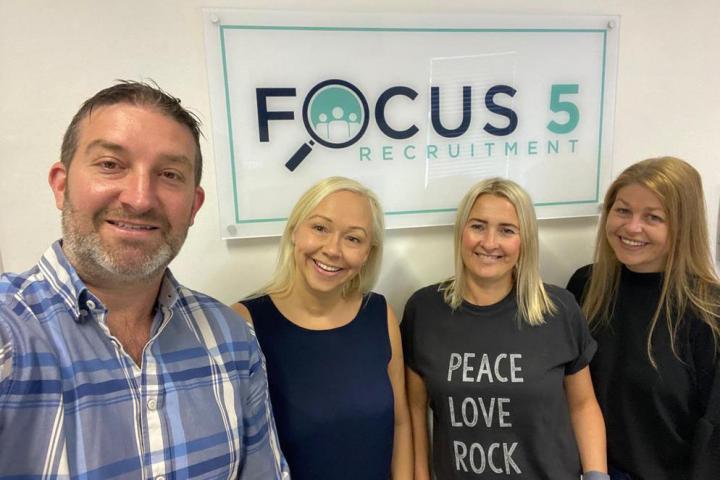 Promotional Feature
The rapid growth of the North Wests specialist tech offering continues to attract the best and brightest specialists from all over the UK.
Challenger recruitment company Focus 5 Recruitment have today announced plans to bolster their specialist tech recruitment team.
Launched by co-founders, Chris and Fiona McCarthy, to provide dynamic tech start-ups with bespoke recruitment sourcing, Focus 5 Recruitment have experienced a sharp increase in businesses struggling to find applicants to keep pace with their rapid growth.
"Organisations are increasingly waking up to the fact that tech as a business function needs to be the focus point for sustainable growth.
"Over recent years continued investment has driven the North West forward as a hub for tech innovation, creating a hotbed for tech-start-ups. Turnover for the North West digital sector is currently over £3.2 billion, with core sector skill shortages in Development – in particular PHP and .NET Developers."
Chris believes, the origins of the North West tech boom stems from the BBC's relocation back in 2011. "You had a big powerhouse like the BBC offering London rates to North West candidates and it really turned heads. Things snowballed with more candidates and businesses following suit. When you add to the mix the responsive training programmes launched by local universities and the global eruption of digital media, the North Wests tech hub aspirations soon became self-fulfilling."
Covid now brings yet another catalyst for massive sector change, tech companies that have embraced this have quickly leveraged increased market share. The tech sector has been the bedrock for businesses, in a time when most have been forced to adapt or fail.
Focus 5 Recruitment are a shining example of a small business responding to this change, regularly consulting with their clients to help them adapt and best position themselves for success within this new workplace model. "The future of the sector seems highly secure, with Artificial Intelligence, Health Tech and Fin Tech expected to see a continued upward trajectory."
Fiona commented, "Our business is about so much more than just getting candidates through the door, all our clients are the best in their field, visionaries with audacious aspirations and we need to find individuals that best fit the unique needs of their organisations and drive their brands forward.
"As a small local business, we pride ourself on our personable approach, getting to know our clients and working closely with them to identify their needs and place the right individuals.
"We are now looking to expand our team to meet the growing needs of the marketplace, and we are welcoming applications from special individuals who can add value to our distinctive approach. We know you are out there; we have very specialist skills and we will find you!"
Focus 5 Recruitment are currently a team of four, including Resourcing Partners Vicky Farrell and Becky Swindell.
For those interested in discussing what Focus 5 Recruitment have to offer, please contact Chris or Fiona McCarthy:
Email: [email protected]
Phone: 0161 401 4055
Connect: LinkedIn
Photo: Focus 5 Recruitment team, left to right: Directors Chris and Fiona McCarthy and Resourcing Partners Vicky Farrell and Becky Swindell.
Tags: