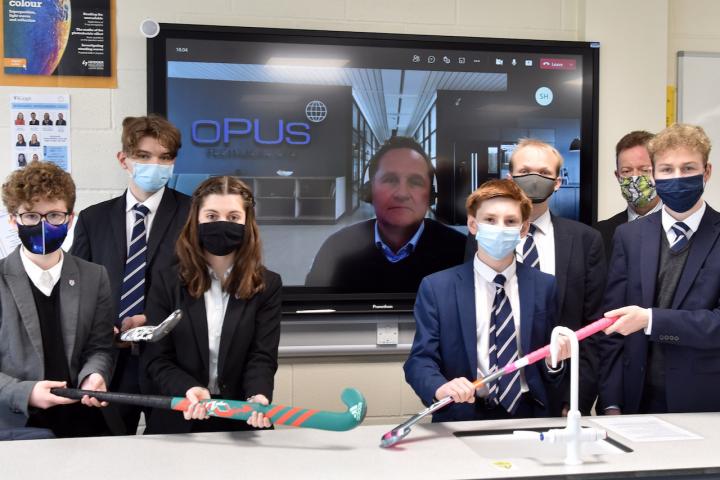 Promotional Feature
An interactive hockey stick has led a team of King's School's Sixth Formers to win the National Award for Innovation in the prestigious Engineering Education Scheme.
The King's team of six Year 12 students has been working over the last six months under the mentorship of OPUS Technical Director John Blackwell to produce a revolutionary new sports training aid. Working remotely under strict COVID rules, the imaginative young designers produced a prototype and an 80-page report detailing their advances to impress a panel of some of the nation's most creative engineering minds.
Using a micro-computer and Bluetooth technology, materials science and computerised data gathering and analysis, the brilliant young students now have a product that could be developed in the competitive dragon's den of global design.
Tutored by Dr Stephen Hartnett, King's Head of Physics, the team first had to come up with an original idea. Student and Team Leader Alex McCall, who wants to be a computer scientist, said: "It was first brainstormed in discussions with Mr Blackwell before we took the idea to the Hockey Department."
Team member Abi Breese-Tovey said: "The concept centred on negative reinforcement, getting the stick to make a noise if it was held incorrectly. We also wanted to send information from the stick to an app on the coaches' phones detailing how hard the ball was being hit according to each type of stroke."
Student Emma Graham added "This meant that we needed to fit an Accelerometer sensor and to use conductive paint as well as Bluetooth communication." Max Parks Szymborski who then produced a design on 3D CAD software, added: "it was essential to go back and forth between our team and the hockey department to fine tune the process."
Aidan Ling, another young software specialist, added: "Mr Blackwell really helped us to advance our ideas and maximise the benefits of the software." Oliver Hall, 16, from Congleton concluded: "The whole six-month project has shown what a rigorous process modern design has to be to compete in the global marketplace and that you must scrutinise every single idea to be ready for the all technical challenges that will inevitably lie ahead."
Dr Stephen Hartnett said: "It has been a pleasure to work with these outstanding students who will, I am sure all have very successful careers in STEM. King's again competed at the very highest level against schools from across the whole of England."
John Blackwell, whose Macclesfield-based company Opus Technical Ltd has over 45 years in the design and manufacture of a wide range of equipment and services for the Process Engineering Industry, said: "This year in particular has been very hard with the lockdown, but the students worked harder and were more focused and organised that ever before, embracing new technologies to collaborate on and off line, learning new skills to prototype their design and finding the time to manage the project when they could not meet up face to face. As a country, we have a history of pioneering and innovative engineers and King's Physics department, led by Dr Hartnett, is introducing and inspiring new students to be tomorrow's great British engineers."
Photo: Pictured with John Blackwell on screen are the King's team from left to right of: Abi Breese-Tovey, Matt Parks-Szymborski, Emma Graham, Oliver Hall, Aidan Ling, Dr. Stephen Hartnett and Alex McCall.
Tags: