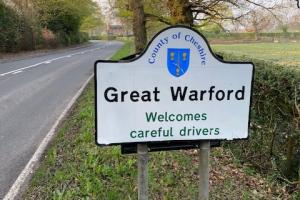 Residents of Great Warford have been left astounded after applying to Openreach for a Community Fibre Partnership (CFP) and being asked to pay around £470,000 for the village to get a fast broadband connection.
Through the Community Fibre Partnerships, Openreach works with local communities, in areas which they do not currently plan to upgrade, to build a customised fibre solution.
On their website the company states "We put a joint funding arrangement in place, which means we contribute some of the costs and your community funds the rest. We'll then build the most affordable solution we can to meet your needs. We'll also advise on any grants you might be able to get to help pay for your part e.g. from local authorities or the Government."
Donald Strathdee, Chairman of Great Warford Residents Group, explained "With broadband speeds in the village inexplicably varying from 9mps to 80mbps and with the government trumpeting the rollout to the country of Fast Fibre Broadband and with Openreach offering speeds of 330mbps the Residents Group decided to process an application."
There are 283 premises in the village with a telephone connection, including around 80 in Warford Park. The Residents Group approached just over 150 households, whom they had email addresses for, and received 79 expressions of interest which were added to their application to Openreach.
Having received a response, Donald Strathdee told alderleyedge.com "Openreach say that the 'Initial Estimate' is £470,177.00. Yes, the decimal point is in the right place, nearly half a million pounds.
"Ah, but they say that the government provide vouchers to the value of £1500 per household towards the cost of installation. However, on closer examination, we find that the 18 households in WA16 postcode are eligible but the 61 households in SK9 are not.
"We seem to have a two tier village where the government has decided that the larger proportion is not rural. Perhaps London does not realise just what rural means. Great Warford is not on the Central Line and doesn't have a single bus service!"
The voucher contribution from the 18 households in WA16 would be £27,000. With this deducted from their estimated cost, it would mean each of the 79 interested households paying a connection charge of £5609.84 - which the Residents Group "politely declined".
A spokesperson for Openreach said "The reason for the cost of the CFP quote is because to get fibre to the community requires a nine kilometre stretch of new fibre spine to be built, as well as around 1000 metres of underground ducting. It's a big job involving extensive civil engineering.
"We're waiting to hear back from the community on whether they would like us to cost a smaller scheme covering less premises than our initial quote however ultimately this might not reduce the cost by much as we still have the spine to build. However, it's always worth investigating further to see what difference can be made and we continue discussions with the community."
She added "We'll continue to explore every avenue open to us to see if we can bring fibre to this community however without vouchers there is likely to be a gap cost involved which will need to be met."
Donald Strathdee contacted MP Esther McVey saying "Many of the residents of Great Warford have expressed keen interest in fast broadband services following recent announcements by Government of their success in becoming leaders in Europe.
"For Great Warford however, we can have superfast broadband, but only if we agree to pay £5609.84 each.
"Could you please review this and let us know just why ministers including the Prime Minister are misleading the country."
Updated: 21st April
Tatton MP Esther McVey said: "I was contacted about this issue last week and have written to Openreach about the matter. I have asked for a breakdown of the figures and how they reached the sums given to The Residents' Association. Once I receive the reply from Openreach I will pass that information on and speak with residents and will take the matter up with Culture Secretary Oliver Dowden.
"Reliable broadband is essential, I have raised this matter many times in Parliament and will continue to do so to assist in getting reliable broadband and internet services for my constituents. I recently secured and led the debate in Parliament about how improving digital connectivity must be the country's top infrastructure project. Decent broadband is no longer a luxury but a necessity and should be installed in homes in the same way as water and a power supply."
Tags: