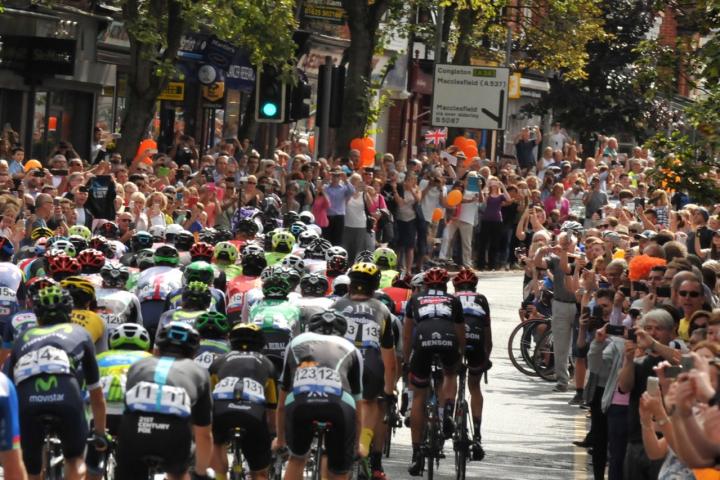 Both Wilmslow Town Council and Alderley Edge Parish Council and Wilmslow Town Council are hoping that organisers of Britain's biggest professional cycle race, which will takes place between Sunday 5th and 12th September, will select them as the location for one of the sprints - to help raise the profile of the town.
North West England will play host to stage five of the 2021 Tour of Britain on Thursday 9th September, when the world's top teams and riders will be racing along roads near you.
A day of racing will begin in south Cheshire and culminate in Warrington, which will make its event debut as a host venue, for a finish outside the town's Golden Gates.
On Monday, 21st March, members of Wilmslow Town Council agreed to express an interest to the organisers of the Tour of Britain to host an intermediate sprint in the Town on Thursday 9th September, as the deadline for doing so is Thursday, 25th March.
Town Clerk Matthew Jackson said "The organisers are seeking towns to host intermediate sprints on that day throughout Cheshire. We don't know yet if Wilmslow will be chosen as this is likely to be determined by how many others express an interest and how the sprints can be incorporated, evenly spread out within an acceptable route. The organisers are seeking to organise 2 or 3 sprints on the day."
He added "The Town Council would work with the newly appointed Town Centre Management function to exploit the opportunity to attract visitors from the region in to the town centre as part of a series of initiatives to drive footfall post covid.
"The Town Council would also use the event to raise the town's profile nationally and regionally and also in promoting cycling in the town. The basic cost to the Council of bringing a sprint to Wilmslow would be £10,000."
Councillor Mike Dudley-Jones, Chairman of Alderley Edge Parish Council, said "We have returned 'an expression of interest' and I have approached a possible co- sponsor yesterday. Once I have some response we will attempt to pull in other sponsors - but it is difficult to predict the take up in this shocking year."
Details of the stage start location in Cheshire, the stage route, including King of the Mountains climbs an sprint locations, and full timetables will be available in due course.