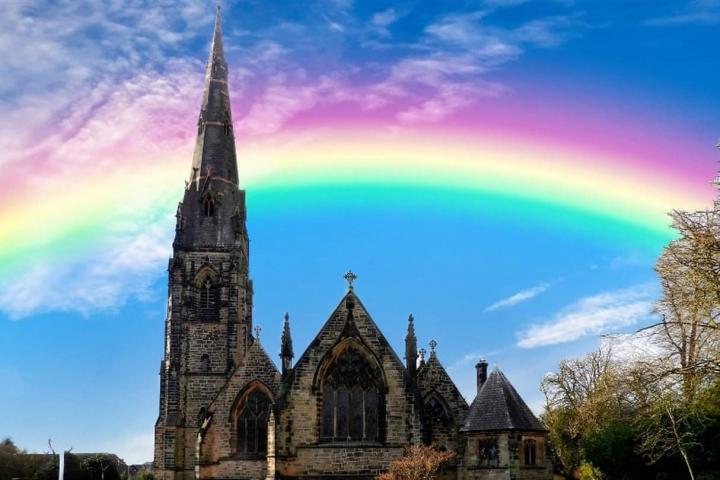 Promotional Feature
St Philip & St James Church are returning to worship in the church building from Sunday 14th March. This means that services will go ahead at 8am and 10am (subject to restrictions around keeping 2 metres distant, wearing face coverings, no congregational singing and using hand gel). The Sunday evening service will continue at 6.30pm on zoom. Since the church has started worshipping on zoom on Sunday evenings, numbers have increased to levels not seen for a long time.
Robin Pye, the vicar, said, "Sunday 14th March happens to be Mothering Sunday which is always a popular service. I expect the church to be as full as it can be while maintaining the required 2 metre distance between household bubbles."
In order to attend a service, you are asked to book on Eventbrite
For 8am: https://www.eventbrite.co.uk/e/8am-traditional-communion-service-st-philip-st-james-church-alderley-tickets-113083457666
For 10am: https://www.eventbrite.co.uk/e/10am-coral-eucharist-with-socially-distanced-choir-singing-and-organ-tickets-114265079930
Other local churches are also planning services in their church buildings as we progress along the roadmap towards further lockdown restrictions.
Alderley Edge Methodist Church, St Mary's Alderley and St Catherine's Birtles all plan to resume worship in their buildings on Easter Sunday (4th April) and in Wilmslow, St Bartholomew's and St Anne's will be back in their buildings a week earlier on Palm Sunday. Although churches have been allowed to remain open during this latest lockdown, each church has made its own risk assessment about safe it is to do that depending on local circumstances, hence the variation between churches.
Rev'd Pye said, "This has been an exceptionally busy time for churches and spiritually, it has been a very intense time for Christians. The pandemic has made us more aware of our dependence on God and the difference that loving our neighbour makes to the community in which we live. We have tried new ways of bringing people together for worship and these have proved to be very popular. People feel a need to pray and to pray more often."
St Philip & St James church has remained open for private prayer during daylight hours throughout the lockdown and other local churches have made the effort to open up at least once a week.
Churches have also found other ways to lead people in prayer over the telephone or on the internet and this will continue for the time being even after services have recommenced inside the church buildings. The times for these prayers are as follows:
Morning Prayer Alderley Edge Methodist Church Facebook page at 9.30 am Monday to Thursday: https://www.facebook.com/groups/aemethodists
Evening Prayer St Philip & St James Facebook page at 6pm Monday to Friday
https://www.facebook.com/StPhilipAE
Telephone Eucharist from St Philip & St James at 2pm on Tuesdays. Email for the telephone number and code
Night-time Prayer from St Philip & St James at 9pm on Wednesdays. Email for the telephone number and code.
Thinking about Easter 2021, Rev'd Pye said, "By 4th April it looks like all our churches will be open again and we will celebrate the risen Christ and his triumph over death together again in the flesh. To celebrate the resurrection as we emerge from lockdown will be very special. I believe that new things will be revealed to us in our Easter celebrations this year and I am greatly looking forward to them."
Photo by David Fairbotham.