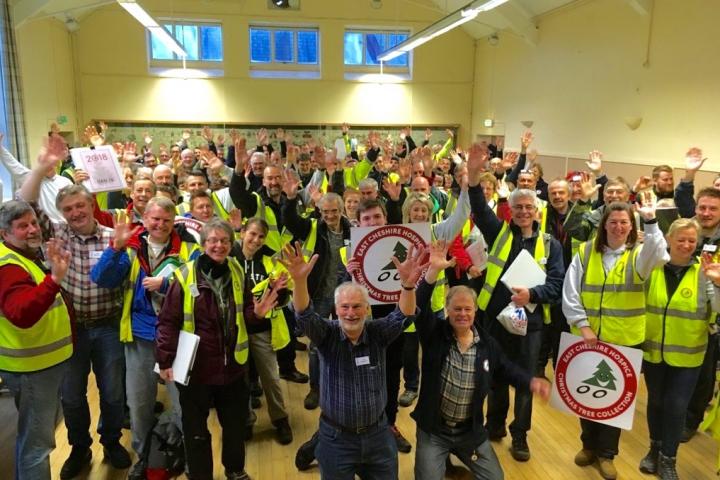 Every year a team of volunteers travel across Cheshire picking up your Christmas trees and taking them to be recycled all in return for a donation to the Hospice.
Whilst many things about Christmas will be very different this year, the team of volunteers will be out in force again in January for the 21st Annual Christmas Tree Collection, which will be the first major fundraising event for our local hospice since the 2020 Christmas Tree Collection.
The 2020 Collection raised over £130,000 for the Hospice with 75 tonnes of trees recycled. However, with the pandemic having produced a surge in Christmas tree sales organisers expect to be collecting over 7000 trees this year which will make around 100 tonnes of recycled material to be used either on the farmland of Cheshire as a soil improver or as fuel to go into biomass boilers.
Over 100 volunteers will be involved each day on Saturday 9th and Sunday 10th January 2021 but due to Covid restrictions they expect to be much slower than in previous years which means that some trees will be collected in the following week.
Richard Raymond, one of the organisers, explained "We will be running vans with crews of two rather than three, although we will have some bubbles of three. Our welfare facilities have had to be radically re-arranged to satisfy social distancing rules. For instance our much-loved breakfast meal at which we gather to have a bacon butty and listen to the day's safety briefing has had to be cancelled and the safety briefing will be delivered by video. We have also had to alter our recycling operation to take into account supply problems with the machines we normally use.
He added "We ask for patience from those who have booked in to have their trees taken because of the nature of this year's operation."
All the costs of running the collection are covered by local business sponsorship, which means that every penny of your donation will go directly to supporting the Hospice.
Bookings can be made at www.echtrees.org.uk where a donation may be made to the Hospice as well. Phone enquiries are handled on 01625 708939. The last date for booking in trees is Wednesday 6th January.
Richard Raymond said "This is a great community event supporting a great community facility. I return each year because it is a fantastically organised day and great fun
It is a hard day's work but so rewarding, it is such a privilege to be a volunteer on this amazing event."
The dedicated team have been collecting and recycling Christmas trees in aid of East Cheshire Hospice since 2001 and have raised over £1.2million since then. In 2016 they were honoured to receive the prestigious Queen's Award for Voluntary Service, the MBE for volunteer groups.