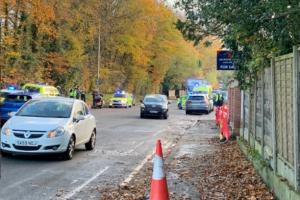 Two people were left injured following a hit and run accident in Wilmslow last week.
At around 3pm on Wednesday 4th November police received reports of a collision on Alderley Road, at the junction with Donkey Lane.
Officers attended the scene and discovered that the collision involved a dark coloured Ford Focus car and a grey and black Harley Davidson motorcycle. The car had left the scene of the collision.
The two people on the motorcycle were taken to hospital to have the injuries they sustained as a result of the collision assessed.
Enquiries in relation to the incident are ongoing. Anyone with any information or dashcam footage that may aid the investigation should call Cheshire Constabulary on 101, quoting IML 844047, or give the details via https://www.cheshire.police.uk/ro/report.