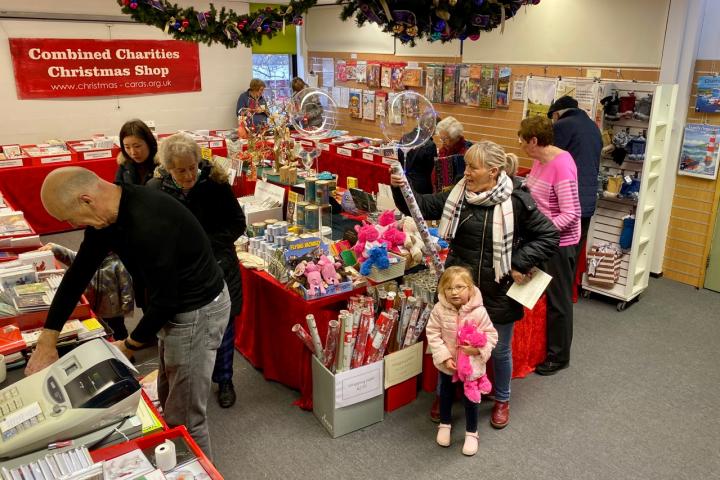 Update - As a result of the imminent second national lockdown, the Combined Charities Christmas Card pop-up shop will not be able to open this year.
Please see comment below from one of the organisers Jill Dodson.
As we all know, Covid-19 has been hugely detrimental, impacting everyone including charities who need your support more than ever this year.
The pandemic has put restraints on most of the shops that are rented for the pop-up period, hence Combined Charities Christmas Card will only open two shops in 2020.
Unfortunately, they were unable to set up shop in the library, as in previous years, so Sheila Hallas trawled the town centre and approached all the landlords asking to rent one of the vacant premises. Eventually she secured the empty unit at 41 Grove Street, but only for a few weeks. The Wilmslow shop will therefore be open from 10am until 4pm Monday to Saturdays from 7th November until early December.
Shopper will be be able to choose from supporting over 50 charities, with the option of having the cards overprinted, and, as always, every penny raised by card sales goes straight to the individual charities, rather than just a percentage as with many high street retailers.
Additionally a range of festive items, gifts and calendars will be available, the sale of which covers any costs of running the shop.
Sheila Hallas MBE started the shops in 1971 with her first in Alderley Edge and has raised over £5 million for more than 100 different organisations over the last 48 years.
Sheila said "Particularly this year with charities having lost hundreds of millions of pounds in donations they need our help with funding and we were determined to reopen. Although less than other years, we are thrilled that we have managed to get two shops.
"We have followed government guidelines, to ensure both our volunteers and customers remain safe. We are lucky to have a loyal customer base who support us every year and we hope they will continue to do so.
"With this year's home in Wilmslow being on the main pedestrian shopping street, we are also hoping to attract new Wilmslow shoppers to the CCCC who may not have heard of us before."
The other shop will be in Macclesfield and as usual will be in the library and open in line with library opening times.
Customers can also buy online where they will find a good variety of cards to buy on the website.