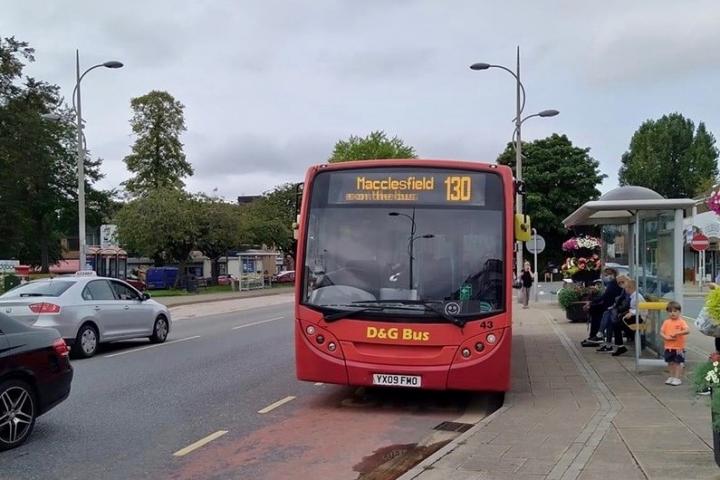 Cheshire East Council has secured funding to help save the 130 bus service which was due to be withdrawn by operator D&G Bus from 3 October.
Following a procurement process, the service is set to continue with improved bus frequency. The successful operator will be announced next week.
The 130 currently runs every 90 minutes during the week and has no Saturday service. The new service will operate approximately hourly Monday to Friday and hourly on Saturdays between Macclesfield, Alderley Edge, Wilmslow and Handforth.
The service will operate with support via bus funding from central government, however the funding is limited until 31 March 2021.
The council says it is seeking funding to ensure the long-term sustainability of the 130 service beyond March.
Councillor Craig Browne, deputy leader of Cheshire East Council, who has responsibility for strategic transport, said: "This is really excellent news for our residents and in particular those who rely on this service to meet their transport needs – to go shopping, access health care, visit friends or simply get out and about for their health and wellbeing.
"I would like to thank our transport team, Transport Service Solutions, for their hard work to find a solution quickly at a time of significant workload and intense pressure on our budgets due to Covid-19.
"We can only secure a long-term solution, however, if the government fulfils its promise to adequately fund local councils for the additional costs of the coronavirus pandemic.
"We have received repeated assurances from government that councils will be fully compensated for costs incurred in the fight against Covid-19 – but we are yet to see the promise meet the forecasts. This council faces a shortfall of £28m without additional government funding.
"Cheshire East Council is far from unique – councils across the country are facing the same significant challenges. That is why we continue to work alongside other councils and organisations like the County Councils' Network and Local Government Association, to lobby government to fully deliver on its promise."
Tags: