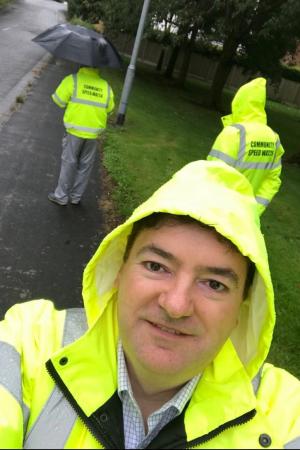 Local Community Speedwatch volunteers held their first session for several months as the group have been able to do so since the pandemic began.
Councillor Craig Browne joined the volunteers on Thursday 27th August to monitor the speed of passing traffic on Ryleys Lane.
Councillor Browne said "We decided that it would be appropriate for the group to re-start, provided social distancing guidelines could be strictly followed.
"As it turned out, we had to cut the session short due to heavy rain; however, between 3.00 - 3.45pm we recorded a total of 36 vehicles exceeding the speed threshold at this location. Of those vehicles recorded, 24 were speeding at or below 39mph and a further 12 were travelling faster than 40mph, with a top speed of 47mph."
He added "The figures are particularly concerning as Ryleys Lane is of course a school safety zone. I am continuing to work with Cheshire East Highways with a view to introducing a permanent 20mph zone with supporting traffic calming infrastructure in this area of the village."