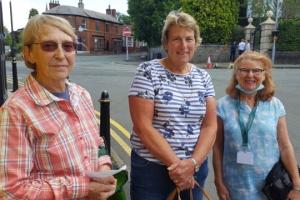 Royal Voluntary Service volunteers have been delivering fish and chips once a fortnight to Luncheon Club members in Alderley Edge and Wilmslow, much to the delight of the recipients.
Anne Bale, President of the Luncheon Club said, "At present we are not charging for the fish and chips to reduce the amount of contact between members and volunteers as well as minimise any delays.
"The members are glad to see a friendly face even if it is wearing a mask and are longing for Luncheon Club to resume."
Royal Voluntary Service are currently assessing whether it is viable to resume their lunch service, providing wholesome meals for some of the most vulnerable, socially isolated and elderly members of our community.
Anne added "There is a lot of work to be done before we will know what is possible but until then we are keeping in regular contact with all our members by telephone."
Photo: (l to r) Sylvia, Maureen and Jenny ready for action.