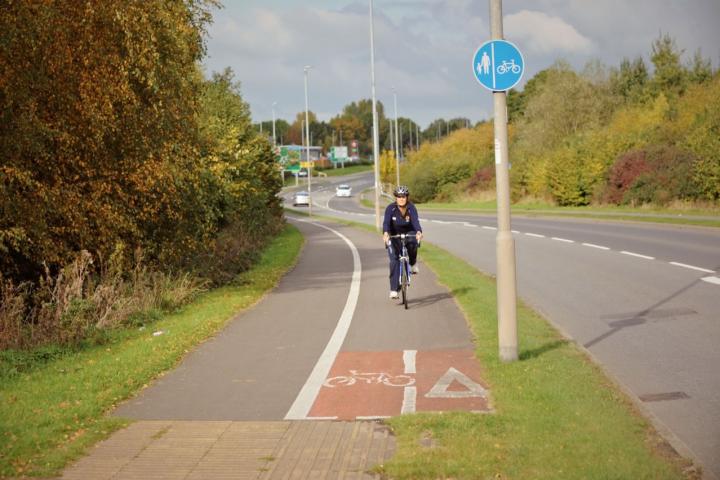 Alderley Edge Parish Council are 'very disappointed' with the latest proposal for a new 2.1km walking and cycling route from Wilmslow to Alderley Park because it completely bypasses Alderley Edge village.
Writing to Cheshire East Council on behalf of Alderley Edge Parish Council, Cllr Sarah Greenwood said "The proposal will 'help improve access to Wilmslow town centre, rail station, employment and education sites for pedestrians and cyclists, and provide opportunities for healthy living through physical activity', yet not provide the same benefits to the residents of Alderley Edge. The proposal does little to encourage the residents of Alderley Edge, including the numerous pupils of Wilmslow High School who reside in the village, to commute by bike or on foot.
"The proposal does not support the Alderley Edge Neighbourhood Development Plan (Regulation 15 Submission) policy AE14 which states that designs for new walking and cycling routes should maximise safe accessibility for all non-vehicle users.
"In conclusion, the scheme fails to deliver connectivity between Wilmslow & Alderley Edge and Alderley Edge Parish Council request that the proposed route is extended along Wilmslow Road into the village as a minimum, but preferably through the village and south along Congleton Road to Alderley Park."
The total cost of the scheme is £950,000, £900,000 of which is being funded with the help of a grant from Cheshire & Warrington Local Enterprise Partnership, with the remaining £50,000 being match-funding provided by Cheshire East Council.
Cllr Craig Browne added "Whilst it probably won't be possible to extend the proposed route into Alderley Edge as part of the existing scheme and within the budget available, I support and echo the Parish Council's request for this to be addressed as part of a future scheme.
"The lack of a footway or highway verge between the junctions of Horseshoe Lane and Davey Lane on Wilmslow Road is always likely to present a significant difficulty in bringing a continuous cycle route into the village at this location; however, my hope is that an alternative route can be identified. Cheshire East Council is currently developing a package of Active Travel projects which will be submitted to the Dept for Transport for consideration for further funding in the near future."