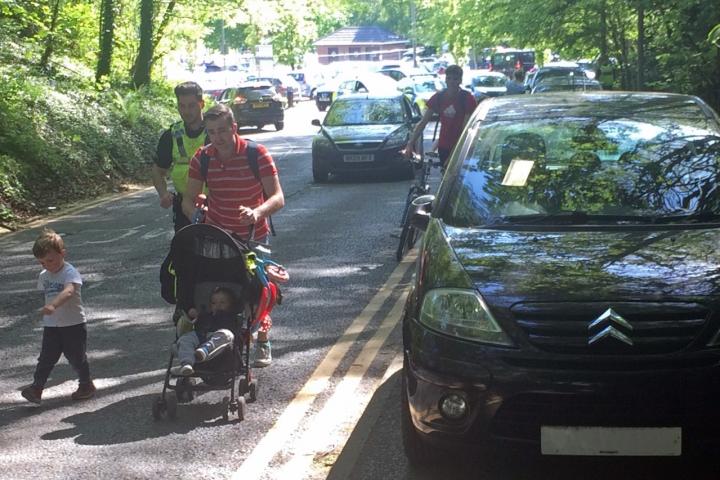 Cheshire East Council is considering measures to tackle the issue of pavement parking which has been highlighted in Wilmslow recently with cars regularly blocking the pavement alongside Cliff Road, forcing pedestrians on to the road.
The Department for Transport (DfT) is undertaking a review of current regulations that apply to parking on pavements.
Cheshire East Council will submit evidence to a review the government is undertaking of current regulations that apply to parking on pavements. CEC will highlight the key issues and experiences surrounding pavement parking, while also looking at options for controlling the problem.
However, the council is not looking to introduce a blanket ban across the borough. Instead, it plans to consider targeted measures that support its policy to promote sustainable transport with less car dependency.
Councillor Laura Crane, Cheshire East Council cabinet member for highways and waste, said: "Parking vehicles on pavements may, in some instances, seem the only appropriate choice for households but it can seriously impede pedestrians, partially sighted and blind people and people with mobility issues, including wheelchair users and those in mobility scooters.
"These residents must often put themselves at risk by being forced to move on to the road to get around a vehicle parked on the pavement. While the police have powers to deal with serious cases, they have limited resources and the council has limited powers to tackle the problem.
"We must look at how planning regulations for new housing developments could include measures to reduce pavement parking, including for houses of multiple occupation, which often see more than one vehicle per property.
"Ideally, we wish to see greater reliance on walking, cycling and public transport and less dependency on motor vehicles. A large number of our streets were built with little or no off-street parking space and vehicles are often parked on pavements to ensure a free-flow of traffic on the roadway. Therefore, there is no easy solution."
Councillor Mick Warren, Cheshire East Council cabinet member for communities, said: "Pavement parking can have a seriously detrimental effect on communities. Parents with prams and small children, people with disabilities, including blind and partially sighted people, are all inconvenienced and put at risk by pavement parking.
"But there has to be a balance, with any policy we introduce to ensure that any local restriction on pavement parking does not merely shift the problem around the corner."
Following the completion of the government's review, the council will develop its draft proposals, which would be consulted upon.