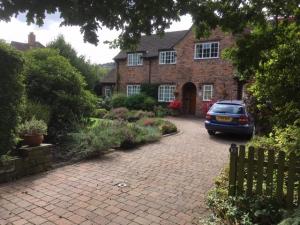 Every year the judges are out and about in the village looking for the best front garden, as viewed from a public road, offering local residents the chance to pick up the The Shell Trophy, in memory of Ian Miller.
The judging panel will be active in early August and will photograph all those gardens that particularly catch their eye. There is no needs to enter formally.
Those selected to be amongst the best will have an invitation and placed in their letterbox inviting them to a Prize Giving Reception on Saturday 5th September 2020.
The event will hosted by the Parish Council at the Festival Hall, starting at 6.30pm with wines and nibbles served. This will be a seated, socially distanced, event where the best front gardens will be displayed on a giant screen before the award ceremony at 7.15pm.
Mrs Carole Miller (Ian Miller's wife) will be in attendance as will Ian's two sisters, Margaret and Susan.
Councillor Mike Dudley-Jones, Chairman of Alderley Edge Parish Council, said "In a summer where we are all struggling to find some high points we hope this competition will be rewarding with a ceremony that is fun and something to look forward to."
In 2019 The Shell Trophy was won by Bryan and Jane Kerr of Moss Road.
Tags: