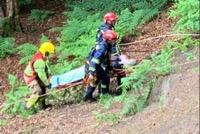 Firefighters were called following reports a man had fallen down an embankment off Macclesfield Road.
The rope rescue unit attended the scene at 1pm on Wednesday, 10th June, and used a rescue stretcher to pull the man to a nearby footpath.
He was then passed into the care of paramedics.