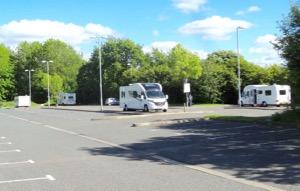 A group of travellers who set up an unauthorised encampment on a town centre car park have been informed that they can remain there during the current Covid-19 pandemic.
A number of caravans arrived at the Broadway Meadow car park, adjacent to Wilmslow Leisure Centre, during the weekend.
Councillor Mick Warren, Cheshire East Council cabinet member for communities, said: "A Gypsy and Traveller liaison officer has visited a site in Wilmslow where a number of caravans have arrived.
"He has spoken to the occupiers and a decision has been taken that, in view of the current pandemic emergency, there would be nothing to be gained from compelling the group to move on and they should be allowed to remain on a temporary basis only.
"It is considered that the unauthorised encampment has minimal impact on the local community but if the situation changes, the council will request they vacate the site.
"The situation will be monitored on a daily basis."