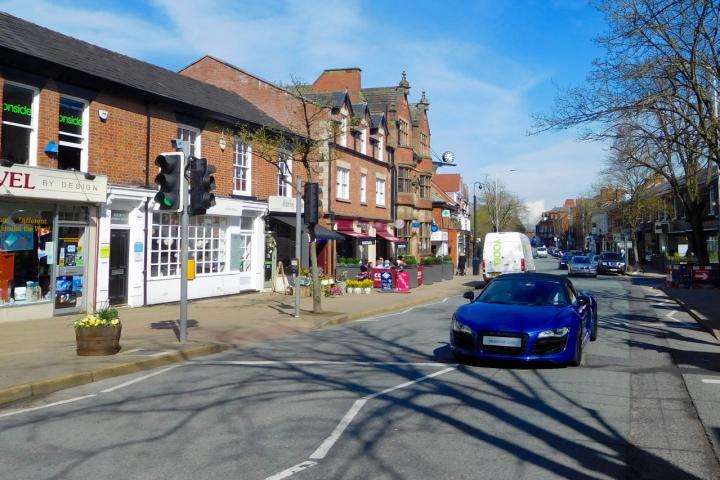 Many residents have either written to me or contacted me via social media over the course of the weekend to ask what is being done to address the issue of so called "supercars" in our village. The issue has been growing over several years, but after a brief respite at the beginning of the Covid-19 lock down, it seems that both the cars and accompanying photographers are back in greater numbers.
In 2019 I had already asked Cheshire East Highways what might be done in terms of installing traffic calming on London Road. The first stage in any process where traffic calming is being considered, is for a traffic assessment to be undertaken and this took place last November at three locations: outside the former RBS, by the crossing adjacent to the newsagents and by the De Trafford Arms.
The results of the traffic assessment show that at the first two locations, 85% of drivers are travelling at or below 26mph; however, outside the De Trafford Arms they are travelling at or below 34mph. I am advised by Cheshire East Highways that the statistics do support the introduction of a new 20mph speed limit and officers are now considering appropriate traffic calming measures to enforce this.
In the meantime, I have been in discussion with senior officers from Cheshire Police and have asked for a more visible presence at weekends (when most of the problems seem to occur). I have also asked officers from Cheshire East Council to give consideration to introducing a Public Space Protection Order in the village centre, which would make revving engines etc an offence.
Public Space Protection Orders will only be introduced by the Council where there is confirmation from Cheshire Police that such action is necessary. I have therefore called a meeting of all the relevant parties, including the Chair of Alderley Edge Parish Council, to determine the most appropriate way ahead. Any proposed action will be subject to full public consultation.