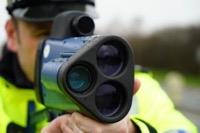 Police in the North West are joining forces to urge motorists to stop speeding following the lifting of some travel restrictions by the government.
Over the last few weeks there have been a number of incidents of unacceptable speed across the region as people took advantage of the quieter roads - with some clocking up speeds in excess of 140mph.
Following on from the individual speeding enforcement campaigns the forces have already been carrying out, Cheshire Constabulary, Lancashire Police, Cumbria Constabulary, Greater Manchester Police and Merseyside Police are joining together to urge motorists to slow down.
As part of a nationwide campaign, the five forces across the North West will be sharing a common goal as they continue to crackdown on speeding motorists. The two week-long campaign, which launched today (Monday 18th May), is being coordinated by the National Police Chiefs' Council (NPCC) – with a warning from the North West that if you speed in the region, police will take action.
Head of Cheshire Constabulary's Roads and Crime Unit, Superintendent Jo Marshall-Bell, said: "Officers will be out over the next two weeks looking for people speeding in the county. They are not doing this for the sake of it, they are doing it to save people's lives.
"People are quick to say "police need to prioritise real issues", "shouldn't they focus on real crimes?" I want to stress that people are killed and seriously injured as a result of unnecessary speed, so this is, and quite rightly so, a priority for us.
"It is absolutely crucial we engage with and educate motorists on how to use the roads safely - and enforce the law when they are not. If you speed in Cheshire, we will take action."
If prosecuted for speeding, the minimum penalty is a £100 fine and three penalty points.
You could also be disqualified from driving if you build up 12 or more penalty points within a period of three years.