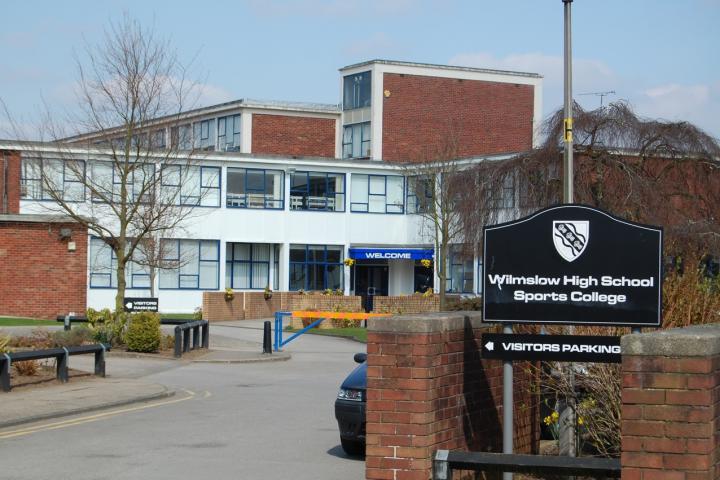 Plans to expand Wilmslow High School at a cost of £12m are set to be determined by Cheshire East Council next week.
In January, the Council announced plans to expand the High School to meet the need for additional secondary school places in Wilmslow in response to the increasing pupil population and additional pupils from new housing developments.
The Local Authority's proposal is to expand Wilmslow High School from 1500 to 1800 pupil places - from 300 to 360 places for each year group from Year 7 to year 11- from September 2023 are recommended for approval by Councillor Kathryn Flavell, Portfolio Holder Children and Families on Monday, 6th April.
The decision was set to be taken at a meeting of the School Organisation Sub-Committee but due to the COVID-19 pandemic the meeting has been cancelled and the Council is using its decision making powers to enable the decision to be taken by the relevant Portfolio Holder.
Wilmslow High School is a popular and successful school, rated "Good" by Ofsted at the last inspection in May 2019, and for a number of years the Local Authority has received applications in excess of the 300 places available per year group. In order to satisfy as many parental preferences for local children as possible the Local Authority, in agreement with the school, has for the last 3 years admitted above the school's Published Admission Number (PAN) of 300 for entry into year 7.
In 2017 there were 330 pupils in Year 7, in 2018 there were 329 and last year the number joining the school in Year 7 rose to 342.
A report prepared for next week's meeting states "Although this has enabled more local children to be offered a place it has still resulted in a number of children resident within the school's catchment area without an offer of a place at the school, and for whom places at alternative schools had to be offered which can incur transport costs for the local authority and cause disruption and inconvenience for the families."
Prior to publication of this expansion proposal the following alternative options were considered:
• The Resource Provision, currently located on the Wilmslow High School site is relocated on to the Handforth Garden Village development
• Satellite provision at the Handforth Garden Village for a year 7- 8 school which is also replicated at the existing site.
• Sixth Form provision is relocated to the Handforth Garden Village development, freeing up space in the existing high school for the secondary aged pupils.
• A new smaller secondary schools opens on the Handforth Garden Village (new provision)
• Moving all Handforth Garden Village pupils to Poynton High School or neighbouring Stockport Schools.
However, the report states "These options all have significant disadvantages in terms of maintaining the overall functioning of the school as an integrated 7-13 school that continues to build upon the strength of the school as being 'inclusive and integrated'. There is the real threat of fragmentation of the school, division between communities as to which is the preferred/better site, isolation of vulnerable groups and the potential for increased congestion and transport costs to move pupils up to Handforth."
Subsequently, following further analysis, three outline options were presented for member's consideration:
• Secondary aged pupils moving to the Handforth Garden Village especially consider new secondary provision commissioned jointly by Cheshire East and Stockport Borough Council. This could result in new secondary provision supporting the needs to both authorities.
• All provision is accommodated on the existing Wilmslow High School site,
• To create a new build sixth form block to the north end of the existing school site close to the Leisure Centre or an alternative site.
The report states "Discussions with Stockport Borough Council regarding cross border working have been ongoing. However, as Stockport are still in the process of developing their local plan and long term strategy in terms of housing any future provision for Education this could be a number of years away.
"Cheshire East Council has also been contacted by the Department for Education (DfE) regarding a bid submitted for a new 750 secondary place free school under the Wave 14 Free School Programme. The outcome of this bid may not be known for some time and again whilst this may be a longer term solution and the authority will work with the DfE to further discuss this as a possible option to address the wider needs for the area including the pupils from Handforth Garden Village development."
Initially a total budget for this project of £9m was approved, to be funded via Section 106 contributions, Basic Need Grant and Capital Maintenance Grant.
However, following a feasibility study the required budget for the project has been increased to £12m inclusive of all professional and statutory fee.
The shortfall additional funding of £3m is being sought via an addendum item on the Council's Medium Term Financial Strategy 2020-2024 which is subject to consideration by the Cabinet member for finance and Section 151 officer. An additional detailed business case will need to be submitted to them for approval and until then the £3m is not approved.
In order to accommodate the additional pupils there will be some remodelling of existing internal spaces. Although this has enabled more local children to be offered a place, 124 local children resident within the school's catchment area have not been offered a place at the school in the past 3 years.
Dr James Pulle, Headteacher of Wilmslow High School commented "As a large school, we are fortunate that we can design and resource a wide range of specialist curriculum provision to ensure that all our students' needs are met.
"The additional financial resources and building project funding generated by a 12-form entry model have already allowed us to enhance our specialist staffing and resources, and increase our curriculum flexibility, despite the recent years of reduced education funding. This has contributed to the improvements in school performance demonstrated in the government's School Performance Tables and to the successful Ofsted Inspections of 2018 and 2019.
"The Local Authority have now committed to a further substantial investment in new buildings and associated infrastructure if it is determined that the school moves to an official Published Admission Number (PAN) of 360 students per year.
"The Governing Board believe that this proposed investment will bring substantial benefits to the educational experience of our students and, therefore, support the proposal that the school moves to an official Published Admission Number (PAN) of 360 students per year."
He added "This is a rare opportunity, that we are determined to make the most of, to benefit from a considerable investment that will substantially improve our school facilities. Therefore, we look forward to sharing with our parents, carers and students further information on these improvements at the appropriate stage of the design process."
The latest pupil forecasts, based on the October 2018 census data indicate an increasing shortfall which will rise to 425 places across Years 7 to 11 by 2025.
A spokesperson for Cheshire East Council said "The local authority and the school are aware that the proposed increase does not appear to completely remove the indicated shortfall. However, it will allow some flexibility to monitor the housing developments and respond to changes in provision as required. In addition it is acknowledge that this is an area where a number of pupils choose to attend independent schools although initially may apply for a place at the school but later decline the place offered."
Tags: