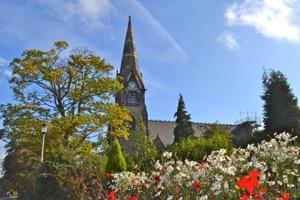 Updated Sunday 15th
Jean Walker said "After careful consideration, we have decided today that the Lunchtime Concert, scheduled for next Wednesday 18th March, should NOT go ahead.
"As you can imagine, this decision has not been taken lightly, and we have been following closely the government guidelines with regard to the coronavirus pandemic.
"Whilst our concerts do not equate with major sporting or cultural events which attract hundreds or thousands of people and require the presence of police and emergency services, we are very aware of the concerns of members of the local community, and feel that it would not be right for our many faithful followers, and indeed our own volunteers to be exposed to unnecessary health risks.
"We are extremely disappointed, but we are hopeful that the Kell Wind Trio will be able to perform for us at a future date."
Two years after their first performance at an Alderley Edge Lunchtime Concert, the Methodist Church is delighted to welcome back The Kell Wind Trio to play next Wednesday 18th March.
The Kell Wind Trio is named after the pioneering English instrumentalist Reginald Kell, who was the first clarinettist to use vibrato in orchestral concerts, and features Alastair Roberts on the flute, Geoffrey Smith, clarinet and Ian Harvey on the bassoon.
All three musicians perform regularly with local orchestras and ensembles, including the Wilmslow Symphony Orchestra, Cheshire Sinfonia and Stockport Symphony Orchestra.
Commencing with Mozart's "Divertimento No. 3 in C major, their programme is sure to provide a winning combination of periods and styles of music.
Jean Walker said "The Kell Wind Trio has gained a reputation for giving lively and informative concerts which include music of many different styles and genres – from music of the Baroque to accessible music from the 20th and 21st centuries."
Admission is by programme, available at the door, priced £6.00.
Lunch (charged separately) Is served from 12 noon, and the concert begins at 1.00 pm.
The designated charity for this month is Barnabus.