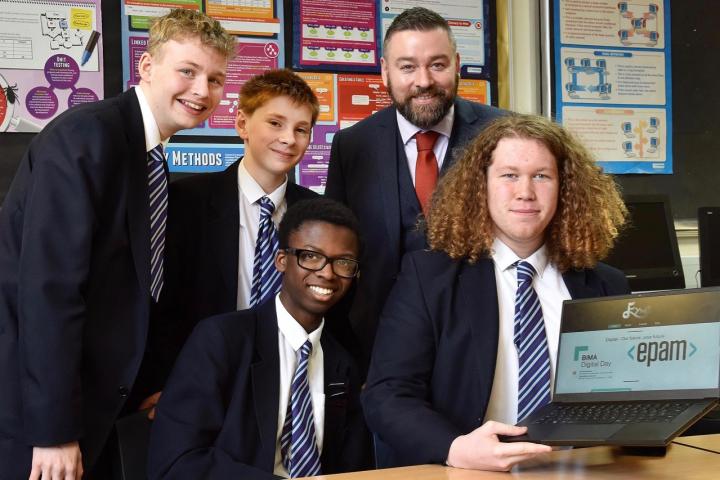 Promotional Feature
Pupils at The King's School have won the British Interactive Media Association's North-West design competition.
The competition, run in partnership with the global product design company EPAM, had 9,000 online entries with King's one of only four teams in the North-West to qualify for the regional finals. Working with mentors, Manchester design company Amaze Realise, the King's pupils had to design an interactive media campaign to attract new recruits into the digital design and communications sector.
Year 11 pupil Mackenzie Blackaby, who wants to become an ethical hacker, someone who is paid to test computer networks by hacking into them, explained their idea. "It was in two parts. First, we put out an isometric test, asking personality profile questions with the results matched to suitable roles and then we explained those roles in simple, no nonsense terms, including what the job pays, whether it was fun and the tasks one might be expected to undertake."
The young men dreamed up the concept themselves, entered the competition online then enjoyed a day at Amaze Realise's offices perfecting it for the regional final. As North-West winners, they will now travel to London to the EPAM HQ for the national final and, if they win, will oversee their idea being made into a commercially viable product. Mackenzie added: "I love computing because you can't keep up with the pace of technological change and there is always some new system or method to master."
Pupil Tariq Habeeb added: "Thirty years ago it was considered a triumph if you could get your internet connection to function, now it can hold petabytes of information, more than the human mind can contemplate."
Pupil Alex McCall, said: "It's the application of technology that impresses me, computer science has improved society across education, healthcare anything you care to mention." Whereas Oliver Hall, who wants to be a physicist, said: "It's the breadth and depth that fascinates me: the breadth of its applications and the ever-increasing complexity of the technology as it advances."
Mr Phillip McKenzie, King's Head of Computing, said: "This is a very special and multi-talented team. I've been entering teams into this competition both at King's and elsewhere for many years and have never won, but this team are the real deal. It's also a wonderful competition because it gives them a chance to take their ideas out of classroom and test them in commercially driven organisations."
Photo (from left to right): Alex McCall, Oliver Hall, Tariq Habeeb, teacher Phillip McKenzie and Mackenzie Blackaby.
Tags: