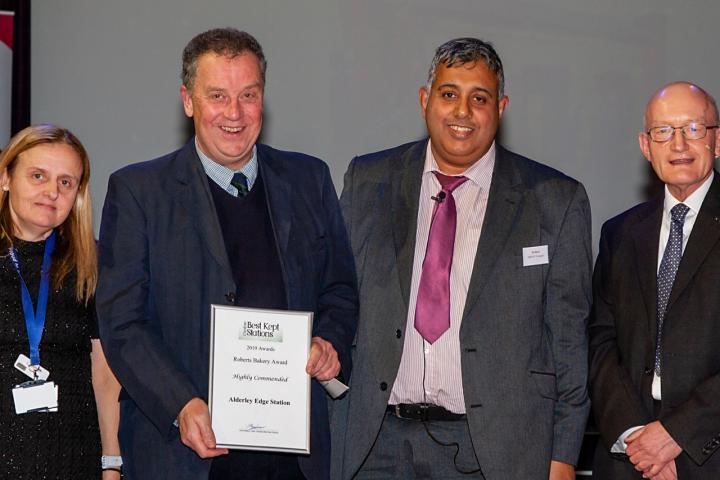 Volunteers who have been working hard to spruce up Alderley Edge Station have been rewarded for their efforts.
The recently formed Alderley Edge Station Volunteer Group were recognised this week at 17th annual Cheshire Best Kept Stations Awards held at The Grange Theatre in Hartford on Tuesday 28th January.
Group volunteer Kelvin Briggs received the award on behalf of the group for the 'Most Improved Station in Cheshire' from Mr Kulvinder Bassi, the Community Rail team leader from the Department of Transport.
He said "We were delighted to receive recognition from the judges who visited the station for the hard work undertaken by village volunteers to make our station a more welcoming place. Special mention should be made of the 'Alderley Edge in Bloom ' group who have worked with us on tree planting and planter displays on the station car park pathway.
"Our plans are to commence work on the platforms in 2020 and we look forward to create some super new plant displays and hold art work exhibitions in the waiting room later in the year involving local artists, schools and youth groups.
"We have a long way to go to catch up with some of our neighbouring Stations but with our enthusiastic volunteers we look forward to delivering improvements. We are delighted to see positive mention and ideas for the future of the station in the draft Alderley Edge Neighbourhood Plan."
The event attracted over 150 Community rail enthusiasts who were addressed by David Briggs ( no relation to Kelvin) and the Lord Lieutenant of Cheshire who explained that Cheshire is unique in being the only county in England to organise a Best Kept Station Competition.
Friends of Handforth Station also picked up an award in recognition of work towards improving platform access for all at Handforth.
If you are interested in volunteering to improve the station please email Kelvin.
Tags: