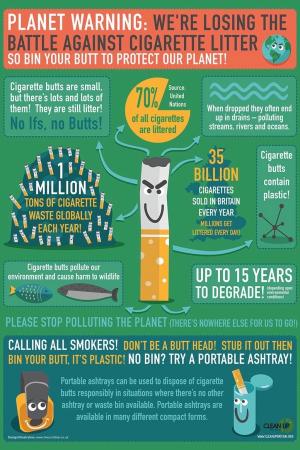 Volunteers from The litter pickers in the Alderley Edge in Bloom who regularly litter pick in the village are concerned that the number of cigarette ends dropped on the pavements is increasing.
As a result they have decided that they will not be picking up cigarette ends for the next month (up to mid-February) to highlight the issue and see what the reaction is from local residents, visitors and businesses on London Road.
At the end of the experiment the Bloomers say they are expecting one of three outcomes:
People dropping the cigarette ends begin to realise the mess they are making and start using bins on London Road and outside ashtrays at bars and restaurants.
All businesses on London Road adopt their patch of pavement in front of their premises and clean up regularly (many do this already).
Alderley Edge in Bloom litter picking volunteers have a big task to clean up in late February!
Litter Picking Co-ordinator Judy Turner commented 'We will use this opportunity to demonstrate the scale of the problem and we will report on suggestions and progress in tackling the butts.'
Dropping a cigarette butt is littering and constitutes an environmental crime. It falls under the same category as dog fouling or fly tipping and if caught the offender can be issued a fixed penalty notice by police officers, police community support officers and street environment officers.
Alderley Edge in Bloom volunteers are litter picking part of the A34 bypass from the Merlin roundabout to Brook Lane again this Sunday, 19th January. New volunteers are welcome, you just need turn up at The Merlin car park at 11:45am. You can leave a vehicle there if you sign in and register your car at the bar. After a safety briefing the pick will commence at 12 noon.
Kelvin Briggs said "Bags, hi-viz jackets and litter picking equipment are all provided. The pick should last about an hour. In the interests of safety this pick is for adults only.
"Why not join in and grow pride in our village and its surrounds!"
Share your views on this initiative via the comment box below.
Tags: