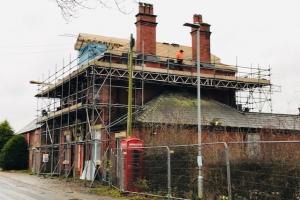 Plans have been approved to turn a vacant pub, which is located within the Green Belt on the outskirts of Alderley Edge, into offices.
Regent Level Limited are turning the former Stags Head Hotel on Mill Lane in Great Warford, which closed in 2014, into offices for their 18 members of staff.
Regent Level Limited acquired the public house from Ribble Valley Inns, who purchased it in 2014 with plans to develop additional hotel rooms in order to improve the overall viability of the business.
However, Ribble Valley's plans to alter the pub, convert and extend the adjacent barn to form a new restaurant, with approximately 90 covers and four hotel rooms, and erect an annex building to create an additional 10 hotel bedrooms, were not progressed following the granting of planning permission in November 2016 and the property has subsequently remained vacant.
The works will comprise of internal alterations along with some minor exterior changes including window openings and entrances. Additionally a replacement single storey extension is to be constructed towards the rear of the building.
The plans can be viewed on the Cheshire East Council website by searching for planning reference 19/3994M.