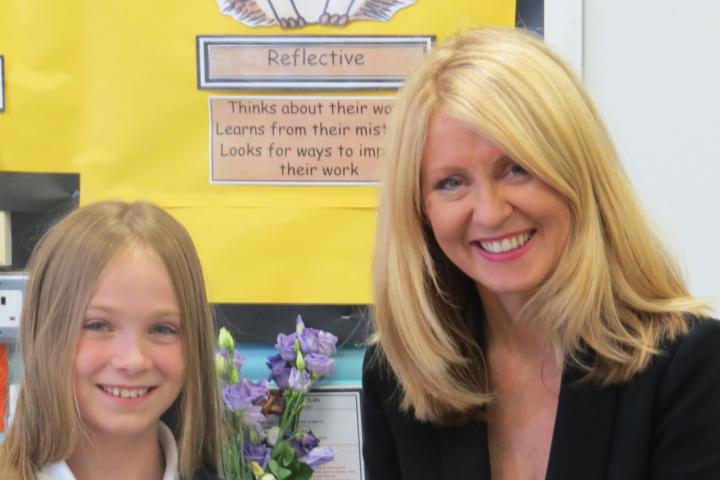 Earlier this year, year 4 at Alderley Edge Community Primary School entered a constituency competition set by Esther McVey, MP for Tatton, to write about the person who inspired them the most.
The children were asked to think about what it was that inspired them and to prepare a presentation. - there were many reports, posters and news articles.
Some children decide to be creative and make model entries whilst others baked cakes! The entries were very varied, including reports, posters and news articles whilst others made model entries or baked cakes!
The children selected inspirational British people ranging from grandads to Prime Ministers such as Winston Churchill and notable figures such as Emmeline Pankhurst.
Cheshire dignitaries from across the constituency judged all the entries and Amelie was awarded first prize for her article about Professor Anthony Howell (Professor of Medical Oncology) from The University of Manchester. Amelie is inspired by Professor Howell as he is a leading figure in the field of breast cancer. The judges were impressed that Amelie had chosen someone who was still influencing people today and making a difference to the lives of many women.
Ms Esther McVey visited Alderley Edge Community Primary School on Friday, 19th July, to present the award and held a question and answer session about life as a politician and MP. All the entrants were awarded a special House of Commons certificate and Amelie was also awarded a family pass for a Cheshire wildlife park.
Speaking about entering such competitions, Head Teacher Mrs Walsh said "Children must be inspired to achieve great things and know what is possible with hard work and determination. Learning from important icons, past and present, shows them how to triumph over adversity and develop resilience. They realise that many people have made a positive difference to the lives of others and be encouraged to follow in their footsteps."