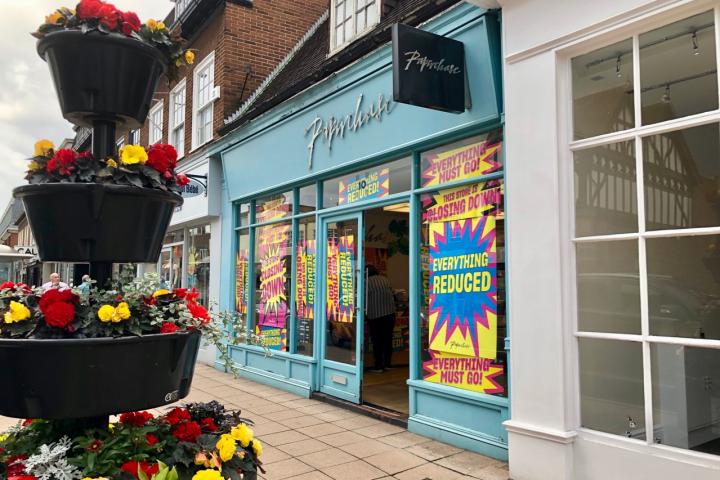 An international chain of stationery stores is preparing to close it's Wilmslow shop which opened in October 2012.
Paperchase on Water Lane will close at the end of August.
A member of staff explained "The lease was up for renewal and someone has approached the landlord with a better offer so we are closing."
The retailer has been around for over 40 years and has over 130 Paperchase shops in the UK as well as over 30 sites across Ireland, Netherlands, Denmark, France, Germany and the Middle East.
Paperchase announced a company voluntary arrangement (CVA) proposal on March 4th 2019 to renegotiate terms with its creditors.
According to the accounts it filed at Companies House, the company saw pre-tax profits fall from just over £600,000 in 2017 to a loss of £6.3 million in 2018.,
Speaking in March, Will Wright, restructuring partner at KPMG said ""Over the last fifty years, Paperchase has grown to become one of the UK's most well-known and innovative design-led stationery retailers. However, like many other businesses in the retail sector, the company has been adversely affected by a cocktail of well-documented issues, including a reduction in footfall, increased rents and business rates, and margin pressure from sterling depreciation.
"Today's announcement follows a detailed strategic review of the business undertaken by the company's directors, during which a series of consultations with key stakeholders took place at which soundings were taken on whether they would be supportive in principle of the company proposing a CVA.
"We believe that what has been put forward today reflects the feedback received during this process, and specifically, gives the company the ability to rationalise its store portfolio by exiting stores that are unprofitable, secure rent reductions where stores are over-rented and implement turnover rents to reflect the highly seasonal nature of the business."