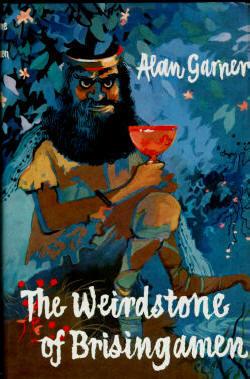 The Weirdstone of Brisingamen was written by Alan Garner between September 1956 and August 1958. It was published by William Collins on 10th October 1960 and has never been out of print.

To celebrate the 50th anniversary of its publication a several events have been organised, culminating in a Festival in, on and under Alderley Edge over the weekend of the 10th October 2010.

The Weirdstone of Brisingamen has become a modern classic, highly rated by critics and read by generations of children. Many of the adults involved in the culture of Britain have been deeply influenced by the work of Alan Garner. And it all started with The Weirdstone of Brisingamen.

During the last fifty years, the book has been published in several editions and languages. It has been adapted into a stage play, a radio play and is available as an audio book.

The celebrations for 10-10-10 will start in March at the Oxford Literary Festival and be followed by a series of special events at the Grosvenor Museum in Chester throughout September and October.
The climax to the celebrations will be a weekend festival in Alderley Edge from October 8th to 10th. In addition to guided tours above and below ground, organised events include: a medieval interactive storytelling,commemorative displays, a medieval fair and a talk by Alan Garner about his relationship with the Edge, the people of Alderley and their stories.

The Weirdstone of Brisingamen was the first of Alan Garner's novels,and, like most of his work, is underpinned by his knowledge of the landscape and lore of Cheshire. The story is based on the Legend of Alderley and turns on the role two children, Colin and Susan, play in a battle of good against evil. They discover a dangerous world of wizards and dwarfs and other strange beings inhabiting the beauty of the Edge.

Alan Garner was born in 1934 and grew up in Alderley Edge, where his family has lived for at least four hundred years. He has spent all his life in Cheshire, except for a brief spell at Oxford University and during National Service. The Weirdstone of Brisingamen was written when he was in his early twenties and he has been writing ever since.

He moved to his present home near Jodrell Bank in 1957, and in 2004 co-founded The Blackden Trust to maintain, investigate and record the place where he has lived and worked for several decades but which has been inhabited for millennia.

A website has recently been launched to provide full information on 10-10-10, the celebration of the fiftieth anniversary of the publication of The Weirdstone of Brisingamen.
Image: 1960 cover.
Nearly 50 years later Alderley Edge based Elizabeth Horrocks has also written about The Legend of Alderley, but in a very different way, in her new book The Edge of Doom.