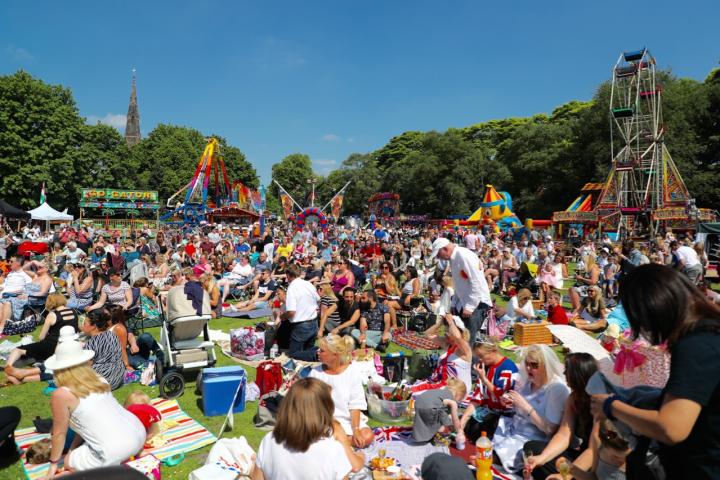 To celebrate fifty years since the moon landings, the theme for this year's Alderley Edge May Fair will be Space.
On the evening of Friday 17th May, visitors to the park are welcome to dress up as spacemen, aliens, rockets, planets or apes to enjoy the sport and music activities.
Starting at 4.30pm, science fiction family films will be shown on a giant TV screen, so visitors can bring a picnic blanket and enjoy the selection of catering provided by seven street food vendors. Then as the sun goes down the live music stage will host a David Bowie tribute act, performing Life on Mars, Space Oddity and favourite Ziggy Stardust hits.
On Saturday morning, children are invited to join the parade in space themed fancy dress, and there will be a science exhibit on the park during the afternoon. The TV screen programs will continue with the theme, and any requests will be considered.
Committee chair Paul Marshall commented "The TV screen was popular last year, when we broadcast the Royal Wedding. LED Digital told us that they would provide an even bigger screen this year so we thought that it would be great to show a couple of science fiction films. I haven't even seen Star Wars so I'm relying on a few suggestions from the rest of the village."
Whilst the third weekend in May is in the calendar as the Alderley Edge May Fair, it also coincides with the FA Cup Final, which involves one of our local teams again this year. So on Saturday 18th May the match will be broadcast at the May Fair on the giant TV screen kicking off at 5pm. Visitors are welcome to bring deck chairs, picnic blankets, rattles and scarfs and take advantage of the street food vendors and licensed bar will be serving before and throughout the match
Paul Marshall commented "I remember when the FA Cup coverage started at breakfast time and carried on until kick off. That doesn't happen now, but there will be plenty to keep everyone in Alderley Edge entertained throughout the day."
Other attractions include fun run, five-a-side football, fair ground rides, live music and dance performances and the ever popular Alderley Edge May Fair Dog Show which will takes place on the tennis court from 12pm on the Saturday afternoon.
The categories will be: prettiest bitch, most handsome dog, dog with the waggiest tail, dog the judge would most like to take home, dog with the most appealing eyes, best rescue, best veteran (10 years +), cutest puppy (under 12 months), best junior handler (under 16) and best crossbreed.
The Grand Final will feature the winner of each category, who will receive rosettes and the champion will be rewarded with a shiny trophy. Dogs can be entered by emailing [email protected], or by registering at 11.30 on the tennis court.
Tags: