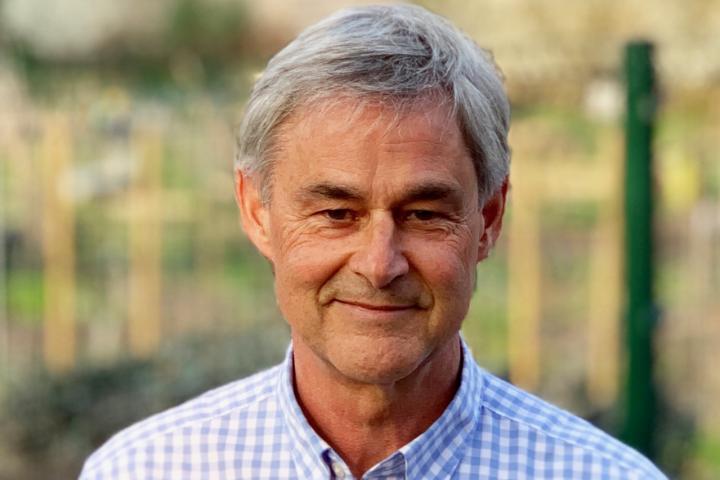 In the run up to the local elections on May 2nd I will be publishing brief interviews with each of the candidates - standing for seats on both the Parish Council and Cheshire East Council - that respond to my request, in the order in which they respond.
To read interviews with other candidates you will be able to click on the tags at the bottom of the article. For example, pieces on the other candidates for the Alderley Edge Parish Council election will all be tagged 'Alderley Edge Parish Council 2019 Election'. Candidates representing the same party or group will also be connected via the tags and all articles will be tagged '2019 Local Elections'.
Geoff Hall is an Alderley Edge First candidate for Alderley Edge Parish Council.
Please tell me about yourself - occupation, how long you have lived in Alderley Edge, interests, family?
I'm a former CEO of a software company; before that a director in Shell. I have a Masters degree in Design, and I do graphic design work (such as for the village map and railway-style posters you can see in the Festival Hall and elsewhere) under the name of The Great Brunel Railway Company.
My wife, Helen was until recently a doctor in the Alderley Edge Medical Practice, and we've lived in Alderley Edge for 13 years. Helen plays clarinet in the Alderley Edge Symphony Orchestra. Wisely, no one ever lets me near a musical instrument, but you will find me on the door at most of the Orchestra's concerts - selling tickets.
Are you a member of any local groups or societies?
I'm a member of the current Parish Council; I turn out to support the local Speedwatch group; I also support the Alderley Edge In Bloom group - mostly in relation to the recently started Wood Gardens planting project; I work closely with the management team at the Festival Hall; I'm a member of the Alderley History Group and the Union Club; I'm also a supporter of Love Alderley (for whom I created the village map, together with local graphic designer, John Marshall). I'm also a member of the Neighbourhood Plan group; I'm an Honorary Co-opted Member of the Alderley Edge Festival.
Why have you decided to stand for re-election as a parish councillor?
Because I want to be able to continue what we have started - to build a community that is run by residents, free from interference by national political parties.
What do you think have been your biggest achievements as a councillor in the past 4 years?
I have been an Independent Alderley Edge Parish Councillor since 2015. I stood for election at that time because I feared that the Medical Centre project was in danger of failing. This meant that we could lose our only chance of keeping a doctors' surgery in the village.
What we discovered in our first few days as Councillors showed that those fears were justified. Sorting out the problems we inherited became a full time job for over a year, but it also had one big positive. We discovered just how much expertise and goodwill we had available to us in our village. Our request for help with the project drew generous offers of support from some very talented people – professionals, residents and local business people – all of whom gave their time, skills and even money.
The new Medical Centre and restored Festival Hall are a tribute to the combined efforts of our community. This is important because it goes to the heart of how I believe a Parish Council should work. It should draw on all the skills and goodwill available to it and focus on improving the lives of local people. It shouldn't allow party politics or egos to get in the way.
What have been your biggest disappointments as a councillor in the past 4 years?
None. Disappointment is simply the result of misplaced expectations. (I take no credit for that observation. It comes from the Roman philosopher Seneca). You expect problems and challenges and we have had plenty, but we have also had a lot of wonderful support, and I have met and worked with some great people, whom I would otherwise not have got to know.
The Tommy Appeal is a good example of this. When a resident brought this First World War remembrance charity to our attention, the Council agreed to put up a small amount of initial funding. We then appealed to local residents and organisations to contribute. The response was fantastic – from individuals, businesses, churches and the Union Club. By the end we had raised enough money to purchase four Tommy figures for Remembrance Day, and the village raised over £2,000 for the charity.
What do you consider to be the important issues facing Alderley Edge?
Our next challenge is to complete the Neighbourhood Plan, which will enable us to exercise greater control over planning matters affecting the village up to 2030. This project is being run by a small team of residents, Councillors and local business people, who continue to put in a lot of work to complete it.
What do you hope to achieve and how in the next 4 years?
To continue to be part of a Parish Council which draws on all the skills and goodwill available to it, which encourages local community groups to flourish and focuses on improving the lives of local people. rather than allowing party politics or egos to get in the way. To continue to work on the Festival Hall and to complete the Neighbourhood Plan.
What experience and personal qualities will you bring to the role?
I'm happy to leave residents to decide what I have to offer.
Why should Alderley Edge residents vote for you?
I'm happy to leave it to residents to decide that.