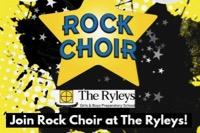 Promotional Feature
The Ryleys School is delighted to announce that additional dates have been released for The Ryleys Rock Choir for children in Alderley Edge and surrounding areas and from other schools in Years 3 to 6.
Starting on May 2nd and running until June 24th, Rock Choir will take place at The Ryleys School on a Thursday from 4.30pm – 5.30pm. The cost per session will be between £8 - £10 depending on how many children sign up. The six sessions and will culminate in a performance for parents.
Rock Choir, which is a national organisation, offers an alternative experience to the traditional classical or community choir, pioneering a new approach to vocal training and entertainment.
The choir will be organised by a professional choir leader from Rock Choir and the children will learn contemporary pop, rock and chart songs that they are familiar with and enjoy singing.
Head Teacher, Mrs Julia Langford, said: "Rock Choir will be a wonderful opportunity to bring children in the community together to take part in a fun and focused activity. By starting a choir in school, we are able to bring this fantastic organisation to children locally.
We hope that many children sign up and we can put Alderley Edge on the map as being the first children's Rock Choir in the area. Should the choir be successful, there will be the opportunity to perform nationally in Rock Choir events, which would be hugely exciting for the children taking part."
To register your child for Rock Choir, contact The Ryleys School on 01625 583241 or email [email protected] for further details.
Tags: