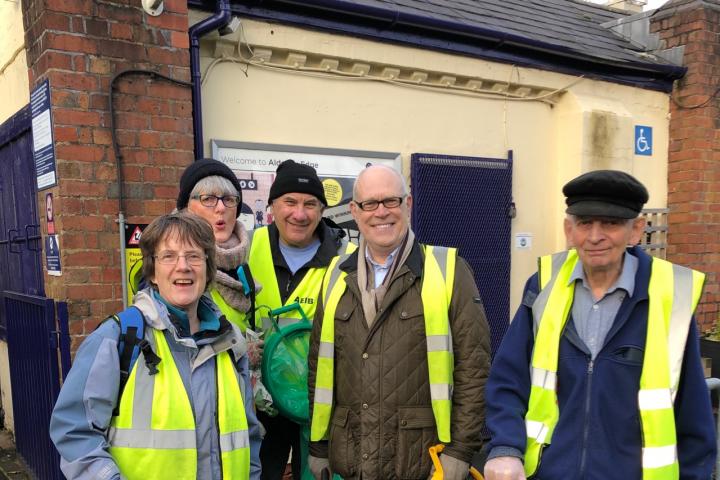 Our Gold award winning volunteer group 'Alderley Edge in Bloom' is inviting local residents and businesses to join them for two litter picking events being held in the village next month. in April.
The Bloom group has registered two events under the national Great British Spring Clean 2019 initiative to reduce the amount of litter nationwide.
The first event will take place on Saturday 6th April meeting at the bandstand in the park at 10am.
Adults and accompanied children are welcome and in addition to litter picking there will be some litter picking bingo games for the youngsters and a chance to talk to the Alderley Edge in Bloom group about their regular litter picking work, community allotment as well as plans for the summer planting and improvement projects in the village.
The second event will take place on Saturday 13th April, meeting at the Ryleys School playing field an hockey pitch car park on Wilmslow Road at 10am.
Volunteers will focus on clearing the grass banks on the side of Melrose Way (A34 Alderley Edge bypass) between the Merlin roundabout and Chelford Road. Due to concerns about safety issues on this road this will be an adult only litter pick.
If you would like to take part, please register in advance on the 'Great British Spring Clean 2019' website and sign up to one or both events via the links above.
Alderley Edge in Bloom will then send you full details of the event you have selected, a week beforehand - confirming where to meet, what to wear and what equipment can be supplied, such as Hi-Vis jackets.
Alderley Edge in Bloom Chair , Leslie Cox is greatly looking forward to the two Litter Picks "I strongly believe that growing pride in our village is something most local residents would sign up for, improving the environment on our doorstep . Why not become a 'Litter Hero' and join us to collect and safely dispose of litter from our streets , the Park and the Bypass, recycling as much as possible ? Working together we can create a greener, cleaner more beautiful village."
If you have any queries about the litter picks or other Bloom group volunteering opportunities. please email Leslie Cox or call 07774 488458.
Tags: