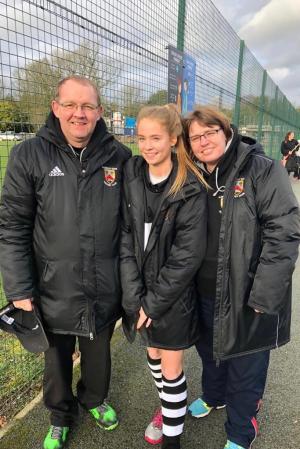 It was a full-on weekend for AEHC's teams this weekend with a full schedule of league and cup games after last weekend's arctic conditions forced the cancellation of most games.
The Men's 1s faced a very fit and slick Sheffield Hallam team in their Premier League fixture. They went down 0-5 despite producing some very good periods of play in what is very much a season of continued learning for the squad making their debut at semi-professional level. U18 player Billy Hedley won Man of the Match honours, as did his U18 colleague Barney Wright in the Men's 2s 1-1 draw against Didsbury Northern.
The Men's 4s posted an emphatic 6-1 win over Chester 4s, although they were pipped to club 'top scorer' status by the Ladies 5s who left Timperley 5s wondering what had hit them after they put nine goals past them, extending their lead at the top of Cheshire league division 4 to eight points in the process. The Ladies 4s also posted an impressive 5-0 win over Chester 4s in the same league to sit third.
The Ladies 1s were left disappointed by a 3-2 loss against Wakefield in their North Premier League game and now need to pull out all the stops at home against University of Durham next weekend to keep their hopes of promotion next season alive. The 2s 1-0 win over Wrexham in North division 2, however, sets them up nicely for a top of the table clash with Wilmslow 1s next weekend.
The 2s fixture was a real 'family affair' for the Smiths. After Wrexham were unable to provide an umpire for the fixture, Karen Smith stepped in as a replacement, joining husband Mark as the second umpire while daughter Katy was influential on the pitch. One can only imagine intensity of the post-game analysis!
The Mens over 40s made it through to the quarter finals of their England Hockey cup competition with a 1-0 win away against a strong Ben Rhydding side. In a tight game Edge held strong and, with a number of players stepping up in the second half, were indebted to strong performances from goal keeper Simon Pickering and defender Ed Offer. The winning goal came from a well-executed short corner routine from Scott Ashdown and Captain Matt Hardy which resulted with an unstoppable Hardy deflection into the goal.
The under 16 girls Tier 1 team won their cup pool game against Brooklands 5-3, while the Tier 2 girls and the Under 14s both lost their fixtures against Bowdon. The under 18 girls were also very unlucky to lose 2-3 to Repton, who agonisingly scored the winner from a penalty corner routine in the final seconds of the match.
Photo: Mark, Katy and Karen Smith.
Match report by Sue Polley.
Tags: