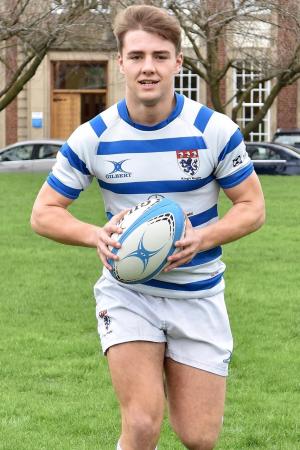 An attacking full back from Over Alderley has been selected for the North of England Schools' side.
Toby Moule, 17, of King's School and Macclesfield Rugby Club is now in the showcase series of regional games against the Midlands, South West and South East which act as England trials.
King's Head of Rugby Giles Hetherington, said "He is one of the best counterattacking full backs I have ever seen at school boy level: evasive, agile, with a sharp turn of pace and incredible power for his frame."
Toby plays for the senior colts at Macclesfield and hopes to play senior rugby for the Priory Park team as well as playing at university, having applied to Oxford Brookes to study Real Estate and Land Management.
He said: "First and foremost I want to enjoy the game, play at university and take it as far as I can."
In an up and down season. King's has again produced a number of stars. Captain, and running fly half, Will Davies has been selected for the Sales Sharks Under 18 Academy, Number Eight Owen Jones has been appointed as Captain of the Independent Schools' Lambs Team to tour South Africa, with Gus Fiennes having also been selected for the trip.
Toby said: "King's went out of our big cup games too early this year but in what is one of the toughest fixture lists on the national schools' circuit we have still shown what King's rugby is all about: Strong defence, team work and adventurous attack from a strong base."
Tags: