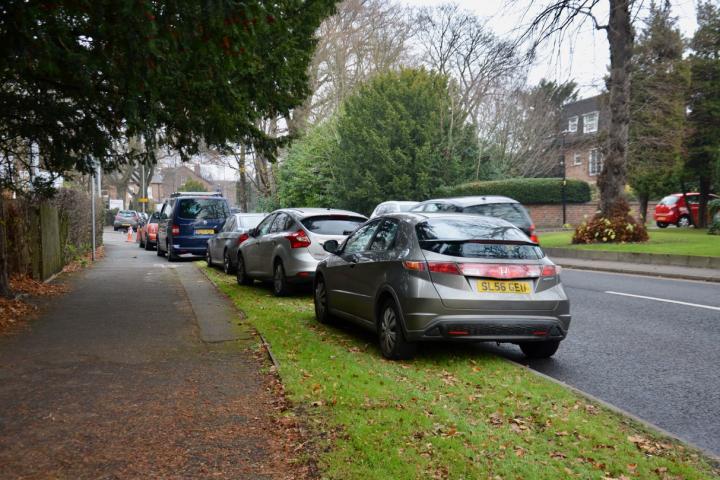 Local residents and those those who work in the town will have the chance to have their say on parking problems in Wilmslow and proposals being put forward by Cheshire East Council to help resolve them.
Representatives from Cheshire East Council met with town councillors ahead of their public meeting on Monday, 21st January, to provide a progress update for developing a parking strategy for Wilmslow.
The Council has recently completed a review of the public parking provision in the town aimed at providing a coherent whole-town approach to parking management that meets the needs of residents, businesses and visitors and delivering a set of interventions that can be introduced to address proven local parking problems.
The recent survey involved completing a set of scoping surveys to assess the extent and scale of parking problems, parking surveys which were carried out on Tuesday 18th and Saturday 22nd September 2018 between 7am and 7pm, as well as beat surveys and parking questionnaires.
The Council also reviewed their complaint log in regards to parking within Wilmslow which showed that 150 complaints were made between 2015 and 2018, with most complaints being made about Alderley Road and Buckingham Road.
The survey also revealed that over the last three years, two streets - Hawthorn Lane and Water Lane - had over 400 PCNs issued and that there is a high usage of both short and long stay parking with permits accounting for 18% of long stay car parking spaces, ranging from 8% at Broadway Meadow to 31% at Spring Street.
The Council has now completed a review of possible interventions and an initial list of possible measures has been prepared, many of which it says are potentially capable of implementation in the short term and will be sufficient to mitigate the pressures in the short to medium term.
However, as the town sees further growth the Council acknowledges there is a need to define opportunities for increased parking provision, either at private sector car parks or additions to the existing Cheshire East Council's public parking stock.
These possible measures will form the basis of a 4 week public consultation which is scheduled to commence on 30th January. This will include a public exhibition which will be staffed by representations from Cheshire East Council at Wilmslow Parish Hall on Wednesday, 30th January.
Further information about the consultation and proposed measures will be published shortly.
Tags: