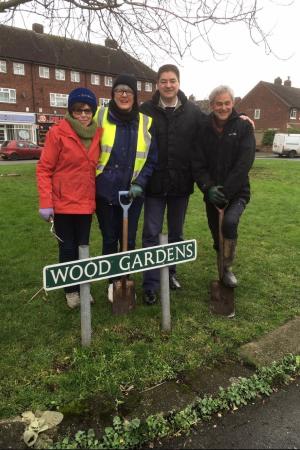 Parish councillors Bev Chapman, Geoff Hall and Craig Browne joined volunteers from the Alderley Edge in Bloom Group and local residents on Saturday, 19th January to plant 1,000 bulbs on the green at Wood Gardens.
Councillor Craig Browne said "Over the coming weeks, we will be speaking to more residents about what their aspirations are for Wood Gardens, including possibly weeding and replanting the flower beds that were created in 2017 with different coloured heathers. I will also be purchasing boxus ball plants for the remaining planters in front of the shops and stocking them with winter primula over the next few weeks."
If you are a resident local to Wood Gardens and would like to get involved or share your ideas for the area, leave a comment below or send an email to Councillor Craig Browne.