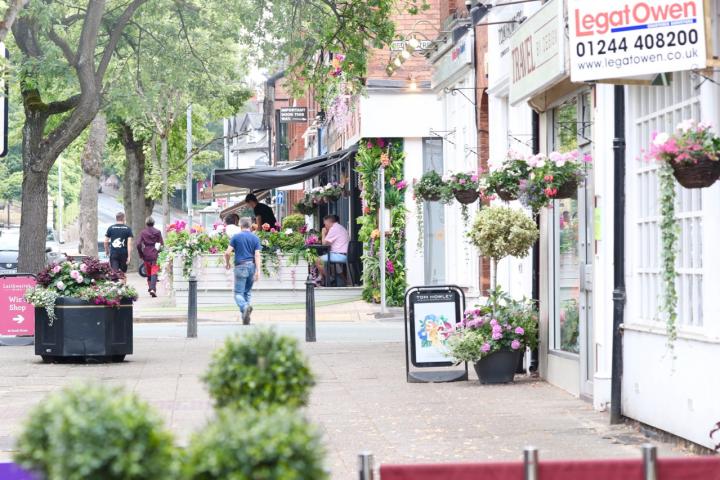 Volunteers are celebrating after picking up their first Gold award in the village's third North West In Bloom entry.
Kelvin Briggs, representating Alderley Edge In Bloom, attended the awards ceremony on Friday, 2nd November, where he was delighted to pick up a Gold medal in the small town category.
Christine Munro said "Winning a Gold Award is a great accolade for all the hard work put in by our dedicated volunteers. They are a fantastic bunch who are always ready to put in that extra effort when it is needed.
"But the real success for us this year is the number of additional volunteers who have joined our group. With their help we have been able to achieve so much, making our village litter free and bright and colourful throughout the year."
Christine added "We are so lucky to have support from the Parish Council, the village traders and residents."
It was also a hugely successful year for Wilmslow which scooped their largest haul of awards and accolades from the North West In Bloom judges, collecting no fewer than twelve awards over the two days at ceremonies in Southport.
Wilmslow has secured the honour of representing the North West in next year's national In Bloom finals together with a fifth gold medal and two additional trophies - the Pride of East Cheshire and as the Best Large Town in the North West trophies. In addition, the RHS judged the town the Community Champion of the area.
During the awards ceremony the previous day, volunteer groups in Wilmslow also received 7 awards in the 'It's Your Neighbourhood' category.
The Gardening Club at the United Reformed Church were accredited with a 'Thriving' award for their activities around the church and all the town's other six entrants (Chapel Lane Business Group, Friends of the Carrs, Lindow Common, Rotary Club in Dean Row, Transition Wilmslow and The Brewhouse) were judged 'Outstanding' – equivalent to a Gold award.
Tags: