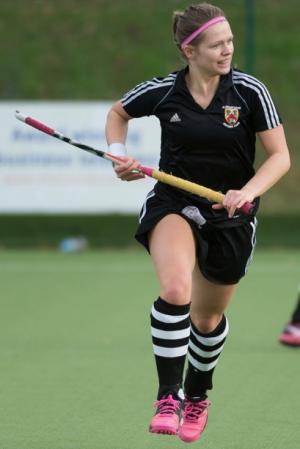 The Ladies 1s posted their third win on the bounce in the North Premier League on Saturday, running out 4-2 winners against what can only be politely called 'feisty' opposition in the shape of Neston 1s.
Despite being faced Storm Callum and extremely physical opposition which, by the end of the game, had resulted in three Edge players being on the receiving end of sticks to the neck and head, the Ladies came out meaning business and were 4-1 up by half time.
Edge's Captain, Amanda Bennison, opened the scoring for Edge after just 30 seconds from a lovely assist by Issy Reynolds-Duffy. Clearly on form, she then deflected a Sarah Hopkin short corner into the goal making it 2-0 to Edge. The intensity of Edge's play clearly started to irritate their hosts and the 'red mist' started to descend for a few Neston players.
Undeterred, Lois McTiffin scored Edge's third goal from a rebound off a short corner, reverse flicking the ball into the roof of the net. Brogan Tennant quickly followed this up with a tap in from Neston's goal post.
Edge's continued domination of the possession in the second half frustrated Neston and some erratic moves resulted in injuries to Edge players and cards for the opposition. Momentarily distracted, Edge allowed Neston to score but fought back to regain control of the game.
The Ladies entertain Wakefield 1s, currently one point ahead of them in the league, at home next weekend.
A bumper crowd turned out to watch the Mens 1s first North Conference home game against Bowdon, hitherto unbeaten this season.
In a fast and entertaining match Bowdon retained their unbeaten record, emerging 5-4 victors despite being pushed to the final whistle by Edge. Bowdon opened the scoring after 20 minutes from the penalty spot after Edge's goalie Sean Hadfield upended a Bowdon forward but Edge equalised almost straight away through Frankie Clavaud after a flowing counter attack.
A dramatic second half saw a total of seven goals. Bowdon started stronger and took the lead from a second phase shot at a short corner and, five minutes later, added another from a long pass deflection to make it 3-1. Unwilling to let the match slip away, Edge pulled a goal straight back from James Warburton's close range flick but unfortunately a defensive error let in Bowdon for an easy fourth on the break. They then added a fifth from a short corner and looked to have killed off the game. However, rather than let their heads drop, Edge increased their work rate and intensity and were rewarded with a fine goal from Ben Gregory after latching onto captain Simon Parr's through pass. More pressure on the Bowdon goal led to another short corner which saw Ben Gregory on the score sheet again after a goal mouth scramble. The Men's next home match at The Edge is on October 28th, 14.00 against Nottingham University.
The Ladies 2s faced aggressive opposition is the shape of Lymm 1s in North League division 2. In a home game which resulted in injuries, Lymm's goal keeper being sent off and several cards, Edge won an eventual game 3-2, the winning goal deservedly coming from a penalty flick from player of the match Tally Smith.
The first half saw Alderley dominate and, after some excellent work from Pheobe Gardner, Izzy Mowatt managed to get on the end of a through ball and tap it in giving Edge the early lead. Lymm quickly equalised and then managed to go into the half time break 2-1 up. Despite an earlier injury, a determined Katy Smith levelled the score after a scramble in the D. Thereafter, incident after incident saw the match stopped several times before a Lymm outfield player illegally stopped an Edge strike on goal which resulted in Tally Smith converting the winning penalty flick.
The Mens 2s suffered their first defeat of the season, going down 1-3 away to Lytham St Annes. In anything but beach weather, Edge made a number of basic errors but Matt Hardy capitalised on a pretty major one from Lytham's goal keeper in the second half for a consolation goal. The men will be hoping for a return to form when they take on Didsbury Northern 2s this Saturday.
Match report by Sue Polley.
Tags: