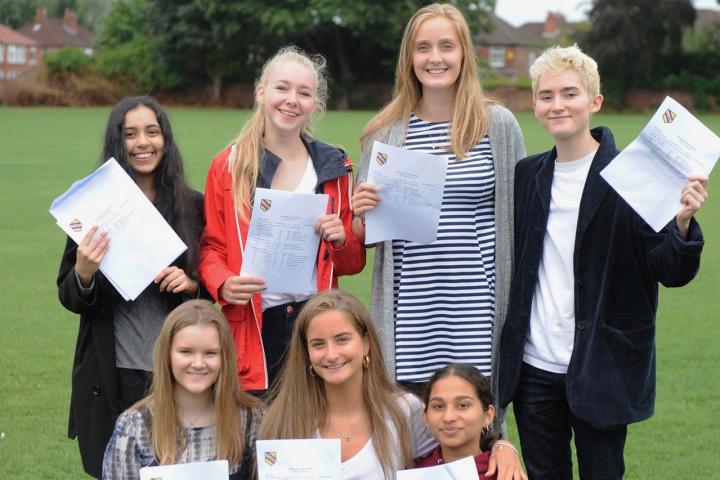 Promotional Feature
Students from Wilmslow and Alderley Edge have contributed to Withington Girls' School's outstanding A-Level exam results in which a record-breaking 41% of all papers taken attained the elite A* grade. Five local students celebrated a clean sweep of A*s in three subjects or more.
The 12-strong local cohort between them amassed 26 A* to A grades as, overall, more than half of Withington's Class of 2018 earned at least three A* to A grades. Results in the STEM subjects, Mathematics and the Sciences, included 44% at A* grade whilst between 80% and 100% of grades in a range of other subjects including Art, Computer Science, Drama, English Language, French, Geography, German, Government & Politics, History and Latin were an A grade or higher.
Withington's latest raft of outstanding results means the majority of WGS students will now go on to study a wide range of degrees at leading universities. Fourteen students – representing 18% of the cohort – have successfully secured their places at Oxbridge universities, including Wilmslow resident Isobel McIntyre whose outstanding achievement of 4 A* grades means she will be heading to St John's College, Cambridge in October where she will be working towards a degree in Engineering.
Headmistress Mrs Sarah Haslam said of the A-Level results: "Withington students never cease to astonish me. They participate in a breadth of activities - the performing and creative arts, sport and outdoor adventure, debating, fundraising, voluntary work and local community involvement - and do so with great enjoyment and success. Yet they also embrace our ethos as a school where learning is its own reward, and willingly and enthusiastically give their full commitment to their studies, supported by a superb team of staff."
Mrs Haslam explained that Withington's class of 2018 can claim numerous achievements over and above their academic accomplishments, including Grade 8 music qualifications, LAMDA distinctions, Duke of Edinburgh's Gold Awards, membership of successful Model United Nations delegations, and starring roles in the recent school production of The Phantom of the Opera. "Two of our Year 13s even made their mark on a global stage, representing the UK at prestigious international olympiads over the summer and delivering medal-winning performances," she added.
"In a year of continuing A-Level reform, we are delighted to see our students maintaining the Withington tradition of academic excellence and securing outstanding results that enable them to now move on to the next exciting stage and pursue their dreams and ambitions."
Open Days for entry to Withington Girls' School will be held on Thursday 8th November and Saturday 10th November – see www.wgs.org for more details on 2019 Admissions.
Photo: Students from Wilmslow and Alderley Edge collect their A-Level results from Withington as the School celebrates an all-time high in attainment of the elite A* grade.
Tags: