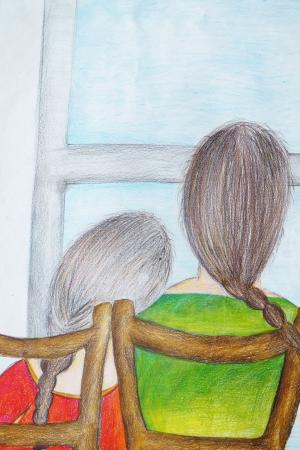 Junior School pupils at Alderley Edge School for Girls secured numerous prizes, including first place, in the AJIS (The Association of Junior Independent Schools) Art Competition.
This year's competition was entitled 'Happiness is...' and entries had to be completed using a variety of drawing media.
After many weeks of planning and sketching, Alderley Edge School for Girls submitted fifteen pieces of art w to the competition, held at The Grange Junior School in Northwich.
Several girls in the Junior School made their way to The Grange School on Thursday 24 May to see if they had been selected to win a prize and learnt that Alderley Edge School for Girls were successful in almost every category.
A drawing of a mother and daughter in pencil crayon by Marya ZinAberdine took first prize in the Year 6 category. The drawing was commented on by the judge as "having a fantastic interpretation of the subject and was extremely skilled".
Whilst Mia Clark's piece of a tightrope cycling girl, won a highly commended placing.
Year 4 art pupils at Alderley Edge School for Girls also won two prizes, with Camille Backhouse awarded second place and Amalie Gale coming third. Additionally Felicity Stanga n Year 3 secured another highly commended placing.
Mrs Harrison, Junior School Teaching Assistant said: "It was a lovely afternoon and we would like to thank the Grange School for hosting such a lovely event. It has been a pleasure to work with the girls on their fantastic drawings!"