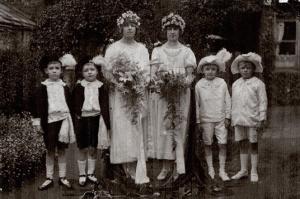 With the Royal theme being prominent at this year's Alderley Edge May Fair, the organising committee has launched a search for former Rose or May Queens who they will ensure receive a right royal reception on the day.
The first May Queen was Gwen Leah, and the first Rose Queen was Muriel Lees in 1922, at the same time as the local council first suggested a bypass and the Festival Hall was still being planned.
Paul Marshall, Chairman of the Alderley Edge May Fair Committee, said "Maybe there have been 50 or more Rose or May Queens since Gwen and Muriel, so the May Fair Committee are now searching to find as many as possible.
"We have organised a fleet of vintage and classic cars to transport former Queens and Princesses through the village in the London Road Parade on Saturday May 19th, so now we just need to find them!"
"The search is launched. If you were, or know, or used to know, or think you know a former May Queen, Rose Queen or Princess then please get in touch."
They will all receive a free invitation to the May Fair Dance on May 5th, special treatment in the parade on May 19th, and ringside seats as everyone settles down together to watch the Royal Wedding in the park at midday.
Tags: