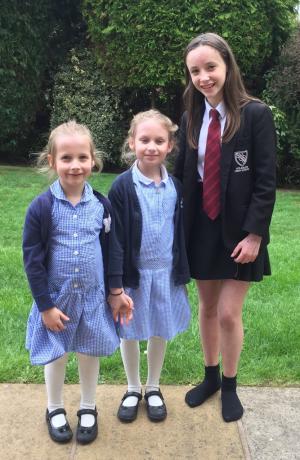 Having adopted the Royal theme for this year's Alderley Edge May Fair, the organising committee have selected their May Queen and Princesses.
The May Queen will be 12-year-old Maisey, a pupil at Wilmslow High School whose favourite hobbies are making music, riding horses and performing with the Sue Morris School of Dance.
Maisey will be accompanied in the parade and throughout the fair by two princesses, Alice, age 7, and Iris, age 5.
The sisters attend Alderley Edge Community Primary School and showed their commitment to the village earlier in the year when they raised a petition with 600 names on it to help save our village library from closure. The girls are all so excited to be part of the fair.
Maisey said "I am so excited because I have lived in this village for many years and I love the May Fair!
"I am as bubbly as a can of coke about this and I am looking forward to spending time with Alice and Iris, the heroes of the library."
Now in its 8th year, the ever popular event will be held on Saturday, May 19th and, as per usual, celebrations will kick off with the May Fair parade through the village centre. Children are being encouraged to take part dressed as princes and princesses, or brides and grooms.
Afterwards, people will be invited to enjoy the Royal Wedding together as it will be shown on 15m giant screen where caterers, coffee stalls and a licensed bar will all be open in time for the wedding build-up.
Elsewhere, the fairground will swing into action during the afternoon, the National Festival Circus will put on three performances throughout the day and crowds can enjoy the live music and dance performances on the stage.
Additionally, families can take a stroll through the park to find the annual dog show, zorb balls, hockey and cricket games, inflatable slides, a ferris wheel, local artisan traders and family entertainment in every corner.
Tags: