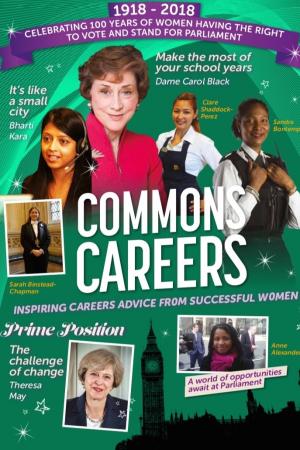 A special magazine edition of a book written by Tatton MP Esther McVey to inspire young girls to aim for the stars will be published to coincide with International Women's Day on Thursday, 8th March.
Titled If Chloe Can, it will feature stories from women who work in Parliament in a range of roles from research, communications and marketing, law, hospitality, security, property management to MP and Prime Minister, to mark 100 years since women got the vote and were allowed to stand for Parliament.
Ms McVey said: "It showcases the diversity of jobs available to women in Parliament. If you want to work there but do not want to be an MP there are so many other roles and opportunities available. I am meeting with community groups and visiting schools handing these out and I hope young girls across Cheshire will identify with some of the people featured and it will inspire them to believe they can achieve anything they want with hard work.
"I want all young people to achieve the extraordinary, to believe with hard work they can do anything they want and not be afraid of failure. The people featured are normal people, not from generations of political campaigners or relatives of MPs, but people who decided they wanted to do something and went out and got it. Each story is unique and offers words of encouragement for younger generations reading the magazine to follow their dreams. In the past 100 years we have had two female Prime Ministers which proves there is no reason any job should be out of reach based on gender."
Ms McVey wrote the first If Chloe Can back in 2010. It started as a magazine for young girls featuring successful women and was later made into a play by the National Youth Theatre.
Ms McVey added: "If Chloe Can is a career book, it is about role models, who are successful in a broad range of professional areas. When I started the project I spoke to many inspirational women including an astronaut, a whisky distiller, fashion designer, entrepreneur and creator of the world's first solar-powered fridge. How often are teenage girls invited to consider such interesting options? I want every young child to be empowered not just fit into some preconceived stereotype that a particular sex does a particular job. You only have to look at the top jobs to see women are still struggling to make a statistical impact. We have come a long way but there is still a long way to go and I hope the young girls reading this across Cheshire will be inspired to follow their dreams and know they can achieve.
"It is a career book, it is all about role models. It is all about having achieved something you want to do but also about how much hard work you have to do to do that job and that career book turned into a play, we also did a special version with scientists and chemists."
One young actor adapted the book and re-wrote it for theatre in order to achieve her dream. The play adaptation is based on Chloe, a dyslexic 15 year old who wants to be an inventor but is told by her teachers it will not happen because of her predicted science grade. Fast forward 20 years and the play recounts the story of how she worked her way up from an apprentice to a CEO of a design company.
After the success of the launch in 2010, Ms McVey produced a male version If You Can and also special science edition of If Chloe Can.
Tags: