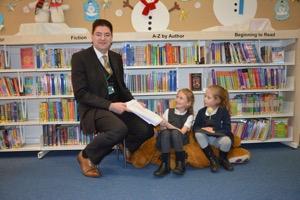 Two little girls from the village have been campaigning hard to save Alderley Edge Library after Cheshire East Council announced in November 2017 that they are considering closing it, in order to save around £50,000 a year.
Alice, 7, and her five year old sister Iris, who attend Alderley Edge Community Primary School, set up a petition and managed to collect over 600 names from children and staff at their school as well as from Alderley Edge School for Girls and Nether Alderley Primary School.
Local Brownies, Guides, Rainbows and children from their dance school also joined the campaign to save the 'community hub'.
Speaking about why she set up the campaign, Alice told me "I love the library, especially the explorer learning sessions and lego workshops. I also like choosing books to read."
Her mum Melissa added "Iris and Alice both went to rhythm time here when they were little. I think it's a big deal for parents and a lovely way to meet other parents and children."
Alice and Iris handed over the petition to Councillor Craig Browne at the library on Thursday, 25th January.
Cllr Browne said "A huge thank you to Alice and Iris who are an absolute credit to their parents, their school and the village.
"Six hundred signatures is absolutely amazing and I think this shows that the library is as relevant to young people today as it always has been and it isn't all about borrowing books. The library has evolved and continues to evolve."
Jackie Down, who supported the campaign, added "It's an important part of our community and we want it to remain so."
Councillor Craig Browne will be taking the petition to Councillor Liz Wardlaw, Interim Deputy Leader and responsible for Health, at Cheshire East Council.
He commented "We hope this demonstrates local feeling and the affection in which the library is held. We all hope they will reconsider their proposal."
The Council published it Pre Budget Consultation for 2018-21 in November 2017, which includes closing Alderley Edge, Disley and Prestbury libraries in order to save £150,000 a year. The consultation ended on Friday, 12th January, and the Council are currently considering their options.
The proposal to close Alderley Edge Library will be considered by the Cabinet on Tuesday, 6th February. If approved by Cabinet then the recommendation will go to Full Council on Thursday, 22nd February.
If anyone would like to make a representation at the Full Council meeting on Thursday, 22nd February please email him and he will make the necessary arrangements.