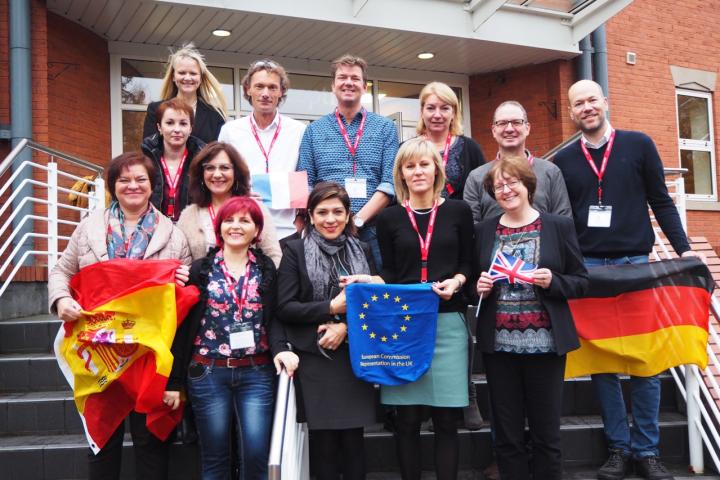 Promotional Feature
Alderley Edge School for Girls has been awarded the foundation level of the British Council's prestigious International School Award in recognition of its work to bring the world into the classroom.
The International School Award celebrates the achievements of schools that do exceptional work in international education. Fostering an international dimension in the curriculum is at the heart of the British Council's work with schools, so that young people gain the cultural understanding and skills they need for life work in today's world.
Alderley Edge School for Girls' international work includes participation in Erasmus+. The School has been successfully involved in regular collaborative international projects since 1999, the latest of which was completed in 2017. This project was called "European Classroom" and involved over 50 teachers and 1500 pupils in schools from seven different European countries participating in more than 20 sub-projects, sharing ideas and classroom practice. Projects ranged from a reading project for younger pupils and e-Safety to the Romantic Age and a collaborative choir concert. More than 400 pupils benefitted from transnational visits made between the partner countries during the three year project, including a visit by the 25 strong German choir to AESG and the Year 7 pupils participating in multimedia activities based on the bestseller book by R J Palacio "Wonder". All the results from the project are available on the project website www.europeanclassroom.eu
On hearing the news that Alderley Edge School for Girls had achieved foundation level of the award, Mrs Jeys, Headmistress, said: "I am thrilled that the School has achieved this prestigious award. As a School, we are dedicated to preparing our students for the world beyond our school gates and our participation in the Erasmus+ Scheme is a crucial aspect to this; offering outstanding opportunities and exciting adventures. Particular thanks go to our committed language teachers who are so dedicated to this fantastic project."
Stephen Hull, Senior Project Manager at the British Council, said: "Alderley Edge School for Girls' international work has earned the school well-deserved recognition in the form of the British Council International School Award - Foundation Certificate. The School's dedication to internationalism is enriching education for its pupils by bringing an essential global dimension to learning and encouraging the development of skills children need to be global citizens of the future. Embedding an international ethos across a school can lead to full International School Award accreditation and schools looking to join this supporting and engaging network should contact us at the British Council."
The award is now available worldwide in countries such as India, Sri Lanka, Egypt, Lebanon, Cyprus, and Pakistan. Around 5,500 International School Awards have been presented to successful schools in the UK since the scheme began in 1999.
The International School Award encourages and supports schools to develop:
An international ethos embedded throughout the school
A whole school approach to international work
Collaborative curriculum-based work with a number of partner schools
Year-round international activity
Involvement of the wider community