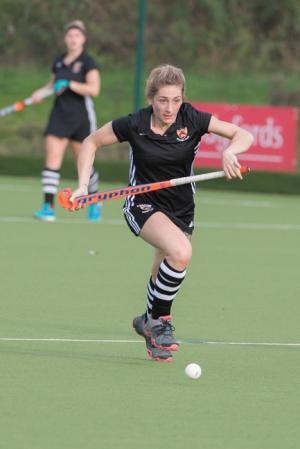 Sunday's less than tropical weather conditions put paid to some of AEHC's scheduled cup matches and junior tournaments but the club still fielded nearly 20 teams over the weekend with pleasing results.
The AEHC's Mens and Women 1st XIIs both faced opposition from Wakefield in their respective North Premier League fixtures this weekend.
A mid-week strategy meeting for the Ladies paid dividends as they posted a resounding 5-0 win over Wakefield 2s to retain third place in the league. Edge were slow to get started but went ahead a minute before half-time after Caitlin Polley ran the length of the left wing before crossing the ball from where Lexi Archer then found the target after a scramble in the D. In the second half Edge were far and away the more fluent and clinical side which led to further goals from Man of the Match Annie Hebb, Nic Hall, Sarah Hopkin and Amanda Bennison. A strong team performance ahead of a crunch away fixture against second-placed Whitley Bay next weekend.
The Mens 1s fought to the end to draw 3-3 with Wakefield in their game. It was always going to be a close game as Edge sit just one place and one point ahead of Wakefield in the North Prem but it should act as good preparation ahead of their encounter with league-leaders Brooklands 2s next weekend. Edge found themselves 0-2 down at half time after failing to optimise on attacking opportunities but never gave up. James Warbuton and Simon Parry narrowed the difference before Edge replaced their goal keeper with a kicking back in the final five minutes. The extra man advantage told with them snatching an equaliser courtesy of Sam Gregory. Edge were disappointed not to have won, but from where they found themselves with ten mins to go it was a fantastic result.
The Ladies 2s won their top -of-the-table clash with Bowdon 3s in Cheshire League division 1. It was a tense game in which Bowdon pushed Edge to the bitter end. However, Edge are not unbeaten all season for no reason – they kept their composure and two solid short corner strikes from Lottie Wright were enough to secure the three points.
A very welcome three points were also won by the Ladies 3s after they beat Oxton 1s 3-1 to elevate themselves from the bottom of division 1. Amber Oxley scored twice from open play and Katie Haszeldine converted a short corner.
The 4s drew 3-3 with Neston 3s in division 3 in a gutsy performance with goals coming from Lucy Walmsley, Ella Jones and Katy Smith. The 5s lost 0-4 to Chester 4s but the 6s and 7s both won their games. The 6s 3-2 win over Lymm 5s now sees them sit third in division 5, with the 7s winning their fourth game on the bounce 5-0 against Golborne3s.
The Mens 2s were bitterly disappointed to come away with just one point after their 5-5 goal-fest against Liverpool Sefton at The Edge. They thought they had won the game with the final touch of the game when Sam Buckingham scored from a penalty flick awarded after an illegal challenge from a Sefton player on Simon Swatland in the D. However, the umpire deemed him to have used the underside of his stick and disallowed the goal. Edge's other goals came from Any Wood (2), Jack Smith and Simon Swatland.
The Mens 3s squad was somewhat depleted through injury ahead of their away game against Neston 3s in North West division 3 and they went down 0-3 with no subs. Special mention must go to Joe Tabachnik for switching teams at the 11th hour to bolster numbers.
The 4s fared better in their meeting with Neston 4s in division 4. They continue their climb up the league table in what is now their sixth game without loss. Ben Sharrock opened the scoring for Edge in what was their first real attack of the game in the first half. Edge's Captain, Rob Marks, and Ali Smith then added their names to the scoresheet.
The 5s lost 0-5 against Llandudno 1s in division 5 despite impressive debuts from Paddy Wright and Scott Brown, while the 6s left it to the dying seconds of the game to beat Crewe 3s 1-0 in division 7. Sadly the 7s lost 0-1 to Sale 3s despite putting in their strongest performance of the season.
The Beavers A and C teams both went down fighting in their games but there was better news in some of Sunday's England Hockey Junior Cup Championship matches. The U18 girls beat Timperley 4-0 while the U18 boys came back from 0-1 down at half time to beat Bowdon 3-2 in their tier 2 game, despite only having 10 players. The U16 boys and girls fixtures, along with a scheduled U12s tournament at Fallibroome all fell foul to frozen pitches. The U14 girls drew against Matlock and the U14 boys lost 1-4 to Bowdon.
Photo: Lottie Wright who scored both the Ladies 2s goals.
Match report by Sue Polley.
Tags: