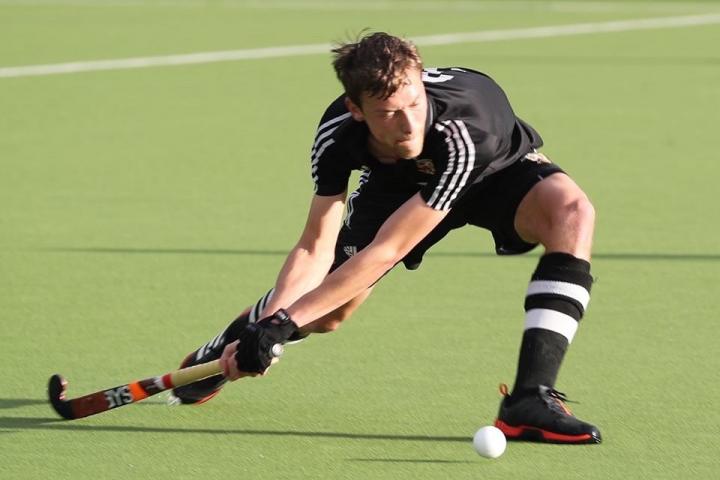 AEHC frustrated University of Durham on two fronts this weekend when Edge beat both their Mens and Ladies 2nd XIIs.
The Ladies made the trip up the A1 to meet the opposition on their home turf and were rewarded with a 1-0 win which now sees them go ahead of Durham in North Premier League to sit third. In truth, Durham had the lion's share of possession but an illegal block on the goal line by one of their defenders resulted in Edge being awarded a penalty flick late in the first half which Amanda Bennison duly converted. Edge then had their backs against the wall for the remainder of the game but their dogged defending frustrated Durham who were unable to convert any of their many shots on goal.
The Ladies' luck deserted them on Sunday though when they lost 0-2 to Doncaster in the Investec Tier 1 Championship.
The Men entertained Durham at home – their 3-2 win meaning that the visitors' trip back to the North-East was probably not a happy one. Edge actually went into half time 0-1 down when Durham scored from a deflected short corner. However, they came out of the gates much better in the second half. Changes to the midfield system provided the catalyst Edge needed and resulted in goals from Greg Johnson and Chris Cook before captain James Warburton scored the decider from a penalty flick after being floored in the D. The Men head to Wakefield, who are just one point behind them in the North Premier League, next weekend.
The Ladies 2s retain their position at the top of Cheshire League division 1 following their 3-0 win against Warrington 1s. Brogan Tennant, Claire Davidson and Lexi Archer optimised on the constant pressure Edge kept up during a game which took a sad turn when one of Warrington's players was taken to A&E with a nasty looking ankle injury.
Despite playing some of their best hockey of the season so far, the 3s were unlucky 1-2 losers against Oxton 1s in the same league. The 4s, however, managed a 1-1 draw against Lymm 3s in Cheshire League division 3. Lymm's goal keeper thwarted many of Edge's early efforts and it was they who opened the scoring from a short corner. A great goal from Kirsty Dickson 20 minutes from time equalled the score and some stoic defending for the rest of the game secured Edge's hard-fought for point.
The Ladies 5s lost 0-3 to Deeside Ramblers 3s whereas the 6s earned a valuable three points from their 2-0 victory over Brooklands Poynton 4s in division 5. This fourth win on the bounce means they are now fourth in the table. Liz Callaghan scored an early goal which settled the team before Lindsey Taylor scored Edge's second with a confident strike from a short corner. The 7s put an amazing 10 goals past Whitchurch Ladies 3s in division 6, meaning they also now sit in fourth place in the league.
The Mens 2s drew 1-1 with Lancaster and Morecambe 1s in North West division 2, Edge's goal coming courtesy of a volley from Ed Fluck off a Matt Hardy cross. The 3s, meanwhile, overcame their disappointment at being beaten by league-leaders Timperley the previous week, with a 3-1 win over Northop 1s, with whom they now share second place in North West division 3. Andy Walker scored twice and was on course for a hat trick before being brought down by Northop's goal keeper. The resulting penalty flick was converted by Adam Allmand-Smith.
The 4s made the short trip to Bowdon to face their 4th XII and after an initially poor first 15 minutes, eventually won 3-1. Team debutant Ali Smith scored twice and Rob Marks once while some excellent saves from goal keeper and Man of the Match Ben Jagger kept Bowdon at bay.
The 5s welcomed Denbigh 1s at Fallibroome in division 5 and earned their second win in as many weeks, running out 2-1 winners. It was Denbigh who opened the scoring with their first shot of the game though. This seemed to galvanize Edge who then won a number of short corners, all of which were denied by some outstanding keeping from Denbigh's goalie. Both Edge's goals came in the second half. The Men face more Welsh opposition next week in the shape of Llandudno 1s.
The 6s lost 2:1 to division 7 league leaders Triton 3, Josh Benton deputising for injured brother Archie to score Edge's goal. The 7s also had a tough afternoon against division 8 league leaders Wilmslow 4s, going down 10-1.
The U12 girls enjoyed a 6-3 7-a-side win over Bowdon with goals from Sophie Fletcher (2), Helena Sykora (2), Olivia Jones and Alice Nolan. Special mention must also go to Madeleine Parish who stepped into goal at the 11th hour. It was a busy day for many of the girls as they also played in a Beavers game against Timperley in the morning. The Badgers lost out to an older and more experienced Oxton but did themselves proud.
Match report by Sue Polley.
Tags: