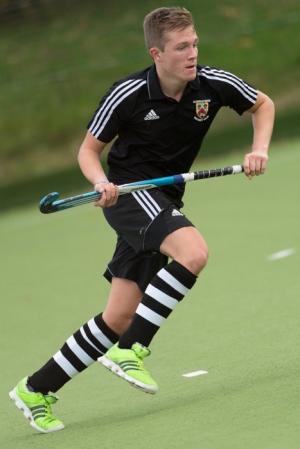 Alderley Edge Mens 1st XI played host to bottom of the table Chester 1s in the North Premier league on Saturday, in a game where three points were essential if the men were to stay in touch with the teams in the top half of the league.
Edge started well with good possession and as they grew in confidence they eventually earned a short corner for a foot in the D. The resulting flick from McCormick was well saved off the line by a defender who followed that up with another fantastic save from James Warburton's rebound. A few minutes later, however, Warburton struck again and opened his account for the season with a well taken deflection from a McCormick short corner. This lead was short lived though as Chester quickly equalised – the visitors would have gone into the half-time break 2-1 up had Sean Hadfield not made some key saves for Edge in goal.
The second half continued in the same vein as the first with Edge dominating the ball and Warburton scoring again from a short corner before Sam Gregory wrapped up the game for Edge. Final score 3-1.
The Ladies 1s travelled to their Coach Andy Gibson's former club, Doncaster, for their North Premier league fixture and came away with a point from a 3-3 draw which so easily could have been a win had they held their nerve. Edge went a goal up up after three minutes following a run from Sarah Hopkin who passed to Dominique Debeijer who struck a clean shot from the top of the D. Edge's second came five minutes later from a short corner strike that Annie Hebb tapped in from the line and their third came when Man of the Match Liv Moores made a fantastic run past virtually everyone on the pitch, including Doncaster's keeper. This, however, was the turning point for Doncaster who then changed their game and began to show why they were third in the league going into the game and they managed to draw level in the second half. The teams face off again in a couple of weeks at home in the Investec Tier 1 Women's championship.
The Mens 2s also had to settle for one point this week with a 2-2 away draw against Urmston 1s, who sit one place below them in North league division 2. Will Hughes scored both Edge's goals from short corners.
The Ladies 2s earned a dramatic and much needed 2-1 win in their away fixture in a blustery North Wales. They faced Rhyl in Cheshire league division 1 and, despite moving the ball around well, it was the hosts who opened the scoring from a well-drilled short corner against the run of play. This gave Rhyl a real confidence boost and they upped the pressure, Edge relying on goal keeper Alanis-Sky Parkinson to make a number of important saves.
Edge came out with renewed determination after the break and Sophie Fox equalised from a short corner after five minutes. With the game headed towards what looked like a draw, a good ball from Jude Offer released Lois McTiffin and Bethany Woodhead who both beat their players and allowed Bethany to score the winning goal in the dying seconds of the game. The Ladies now sit second in the league, two points behind Bowdon 3s.
In the same league the Ladies 3s also picked up three points courtesy of a 2-1 home win over Winnington Park in what was a great team performance. Although goalless at half time, Edge asserted pressure on many occasions in the first half but allowed Winnington to score on the break within the first 10 minutes of the second half. Edge didn't let this deter their spirit and two team debutantes, Issy Broadhurst and Michelle Fletcher, both hit the back of the net to secure the win.
The 4th and 5 XIs both faced opposition from Oxton in divisions 3 and 4 and sadly both lost 1-2.
However, the 6s dominated their game against relegated Sale 3s. Edge attacked from the outset but their efforts were initially thwarted by the very hard working Sale goalie until Lily Turnbull scored from open play. Sale, however, got a goal back after scoring from a short corner just before half time.
Edge continued to attack throughout the second half but frustratingly could not convert chances into goals and penetrate Sale's very effective defence until Liz Callaghan found the back of the net twice in quick succession with ten minutes to go. 3-1 to Edge and three valuable points.
The Ladies 7s enjoyed a brilliant win 2-1 against top -of-the-table Wilmslow 4s in division 8 despite fielding just 11 players. Goals from Sophie Miller and Lucy Pooler ensured victory against a hungry and slightly more experienced Wilmslow line up.
After the disappointment of last week's away defeat at Wilmslow, the Mens 3s got back to winning ways in the noon push-back against Chester 3s at the Edge. 
Skipper Andy Walker changed to a 4-3-3 formation in order to best exploit Joe Coxon. These two shared Edge's three goals between them, enough to earn three points in what is turning out to be a hotly contested North West division 3, with just two points separating the top five teams.
The 4s beat league-leaders Knutsford 2s 2-1 in division 4 in a real show of grit and determination. An early goal following some good passing hockey set the game off well. A bouncing ball into the D was nicely finished to double the lead and give Rob Marks his second goal. Knutsford managed to halve the lead from a short corner just before half time.
The 5s went down 2-3 to Moslley Hill 2s in division 5 while the 6s drew 2:2 with Sale 2s at a very wet and windy Kings Macc.
Photo: Will Hughes.
Match report by Sue Polley.
Tags: